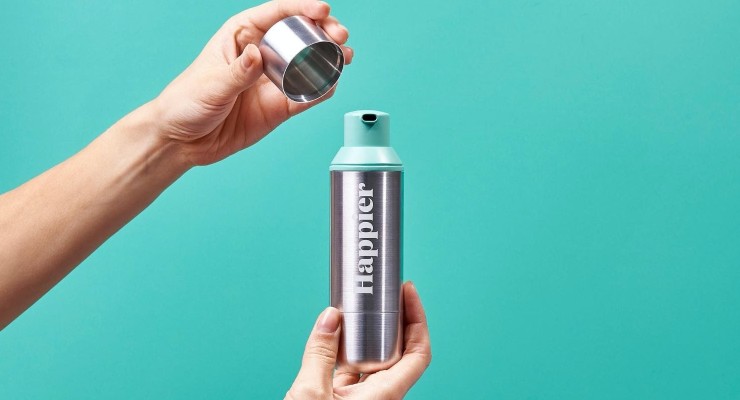 Happier Beauty, a British eco-friendly dental brand is developing a refillable toothpaste dispenser with biodegradable refill capsules after receiving a Smart Innovate grant of £150,000 ($202,925). 
 
The brand is on a mission to tackle the tons of plastic waste produced by regular toothpaste pumps and tubes by developing a new toothpaste dispenser that eliminates single-use plastic tubes or pumps.
About the Dispenser
The innovative toothpaste dispenser will be made of aluminum and 50% recycled plastic, and has been designed to be used over and over again. The refill capsules are biodegradable meaning the new dispenser and refill capsules are completely zero-waste.
 
Together, the offering provides an alternative to standard toothpaste tubes that are notoriously difficult to recycle and result in 1.5 billion plastic toothpaste tubes ending up in landfill every year. The brand wants to create a more circular solution to the climate crisis.
Biodegradable Refill Capsules
The new toothpaste dispenser will allow consumers to refill using biodegradable capsules. The refill capsules will be sent out to customers as a subscription, along with the reusable dispenser in their first subscription. Customers will be able to choose the frequency of their subscription.
 
The design will be elegant and sleek, and the dispenser comes in four colors: mint, pink, peach and white.
 
Founder of Happier Beauty, Faye Wilson, said, "It is becoming clear that recycling will not save us from the climate crisis, and so Happier Beauty wanted to take it one step further by creating a truly circular refillable and reusable solution.
 
"We are so excited to be the world's first toothpaste company to bring a refillable toothpaste dispenser to market. Refills are becoming more popular across food and beauty so why not dental care? Toothpaste is a product we all use twice a day but innovation in this market has been pretty slow up until now."