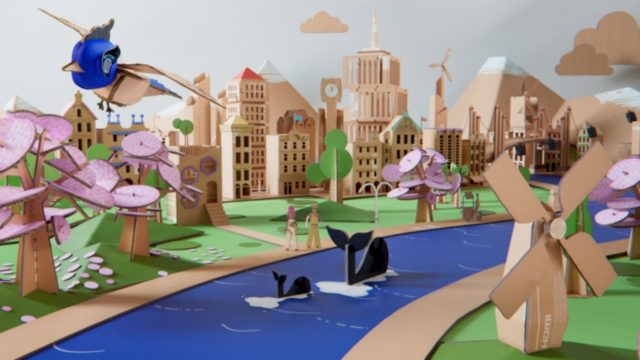 With a Covid-inspired surge in home deliveries and wasteful packaging over the past year, electronics firm Samsung chose to launch an eco-friendly home renovation project ahead of the United Nations' World Environment Day.
Released on June 4, the campaign was devised by Edelman, which was instructed to find a way people could rethink how to reuse their packaging waste. The result was a 30-second campaign with Amsterdam-based paper artist AJ Smith, known as Papersmith, who explored the creative reuse of Samsung's Eco-Packaging.
That partnership led to the "Small World" concept of a world made of cardboard. The designs use product packaging from Samsung products including its QLED 4K TV, Galaxy S21 smartphones and Galaxy Buds Pro earphones.
Samsung released its Eco-Packaging last year for its TV products, which can be upcycled as animal toys or small furniture pieces, as is displayed in the Small World spot.
The campaign will run within Samsung's #ReimagineABetterPlanet commitment to create a more sustainable planet.
This month, Samsung will also highlight its existing initiatives to support environmental sustainability across its social media and digital channels, which include the Galaxy Upcycling projects that encourage recycling older technology that can still be repurposed. This will run across the U.S., the U.K. and Korea.
"We at Samsung are dedicated to creating a sustainable future that provides a better life for all by introducing creative eco-conscious products and solutions across all of our business areas," said Hyeongnam Kim, president of the Global Computer Science Center, Samsung Electronics. "With a focus on sustainable management, we are putting carbon reduction, resource circulation and ecosystem restoration at the forefront of our efforts to protect the environment.