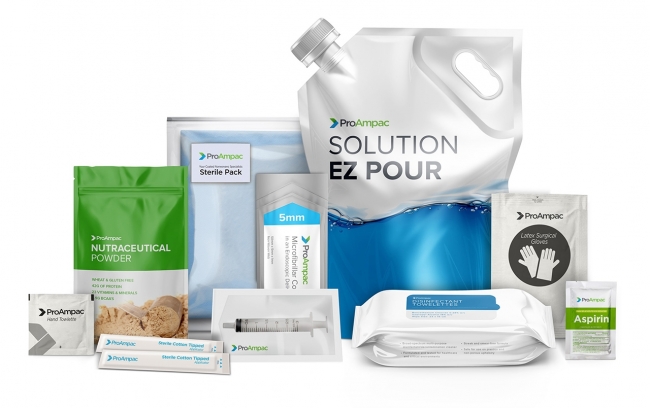 Press Packagingconnections
"We invite the medical community to visit us at Booth 1825 and learn more about ProAmpac's newly branded HC-series of materials and our expanded DuPont™ Tyvek® offering," said Jeff Murak, manager of business development for ProAmpac.
Introducing ProAmpac's HC-Series
HC-600 is a series of high-barrier films that suit a variety of market applications:
HC-600W films are specially designed to package normal (aqueous) and "hard-to-hold" products containing fragrances, alcohols, or germ-killing disinfectants;
HC-600LE are low extractable barrier laminations developed for those demanding applications where common trace contaminants found in most standard laminations could have a negative impact on the product;
HC-600Al FREE is an innovative alternative to laminations incorporating an aluminum foil barrier without sacrificing strength or sterility.
HC-400 POLY & HC-400 PAPER represents our customizable materials that provide stringent packaging options with excellent barrier properties. The material targets product that requires either poly/poly/foil/poly or paper/poly/foil/poly structures, customizable in one or all layers.
HC-48SG film offers reliable high-barrier options to meet industry requirements for sterility while providing features to enhance ease of use.
ProAmpac Healthcare with Dupont™ Tyvek®
ProAmpac's laminations, pouching and material science expertise coupled with Dupont™ Tyvek® provides an incredibly durable substrate that is both breathable and offers a superior microbial barrier.
Dupont™ Tyvek® product offerings includes rollstock and pouches
Slit to width
Chevron peel
Extended sizing capabilities
Flexographic printing
To set up a meeting during the show or learn how ProAmpac's Healthcare team can help you, please contact Jeff Murak at Jeff.Murak@ProAmpac.com or visit our website at ProAmpac.com/health.