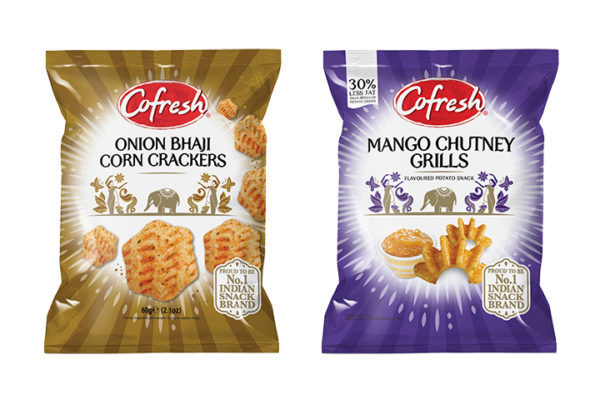 Developed in response to growing consumer demand for taste adventure, the two new snacks are designed to appeal to all ages and will capitalise on the popularity of shared snacking occasions with friends and family.
The Mango Chutney Grills (80g) combine the authentic sweet and spicy elements of this classic condiment, including a hint of mint, in a crunchy potato-based snack while the Onion Bhaji Corn Crackers (60g) faithfully recreate all the flavour of the famous Indian appetiser. Both are suitable for vegetarian and vegan diets and have an RRP of £0.83.
"The last year in lockdown has seen increased demand for new varieties but people are also embracing the comfort factor found in familiar flavours," comments Jon Roberts, Cofresh brand manager. "The renewed interest in health and well-being also means there's a fantastic opportunity for our Grills to shine – with 30% less fat than the market leader and no reduction in the flavours that Cofresh is renowned for, they're exactly what consumers are seeking."
The new Grills and Crackers have been developed as part of Cofresh's extensive NPD programme and will be supported by high profile PR, advertising and social media campaigns, as well as in-store promotional activity such as multibuys and WIGIGs to help drive shoppers to the fixture.