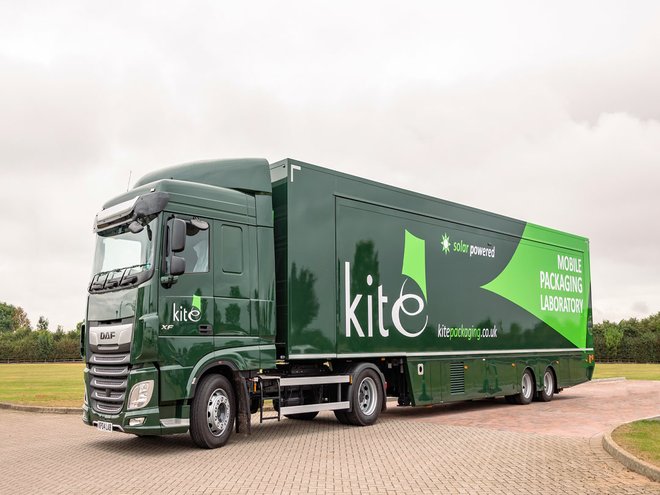 The company says that the new laboratory will showcase Kite's packaging solutions to both existing and prospective customers. Onboard equipment includes a pneumatic carton stapler, paper void fill systems, and the Roboplat 708 and Robotape 50ME machines, among others.
In addition, packaging solutions can be trialled and tested live in the laboratory, Kite Packaging claims. The mobile laboratory contains a box testing facility, including a precise multi axis drop test attachment that allows the box to be dropped on different points, such as its edge or corner.
The laboratory also includes a "state of the art" load stability testing function. Allegedly, this can analyse the performance of pallet wrap solutions to ensure the integrity of the film and reduce waste.
Kite Packaging adds that this is its latest generation of mobile facilities incorporating a green energy solution.
The trailer section of the mobile laboratory is run on solar power taken from the roof's mounted panels, according to the company. The plastic panels that make up the interior of the laboratory are apparently made from 80% recycled content.
Gavin Ashe, Kite Packaging Managing Partner, says: "This new MPL represents a significant investment by Kite to help our customers find a more efficient and greener packaging solution.
"It allows us to take what is probably the best equipped packaging innovation and testing facility directly to our customers."
Kite Packaging has made a number of commitments to sustainability in packaging innovation. In August, the company was certified as carbon neutral by Carbon Neutral Britain.  
The company's products include a chilled packaging solution that is paper-based and recyclable, reportedly with the same temperature-controlling properties as polystyrene, alongside shock absorption. Its Flexi-Hex bottle sleeve is both biodegradable and recyclable, eliminating the need for tape while apparently providing a secure fastening for its contents.
Kite Packaging says its new mobile packaging laboratory will offer demonstrations and testing of prototypes to its customers across industries, including automotive and aerospace, food, retail, and e-commerce.