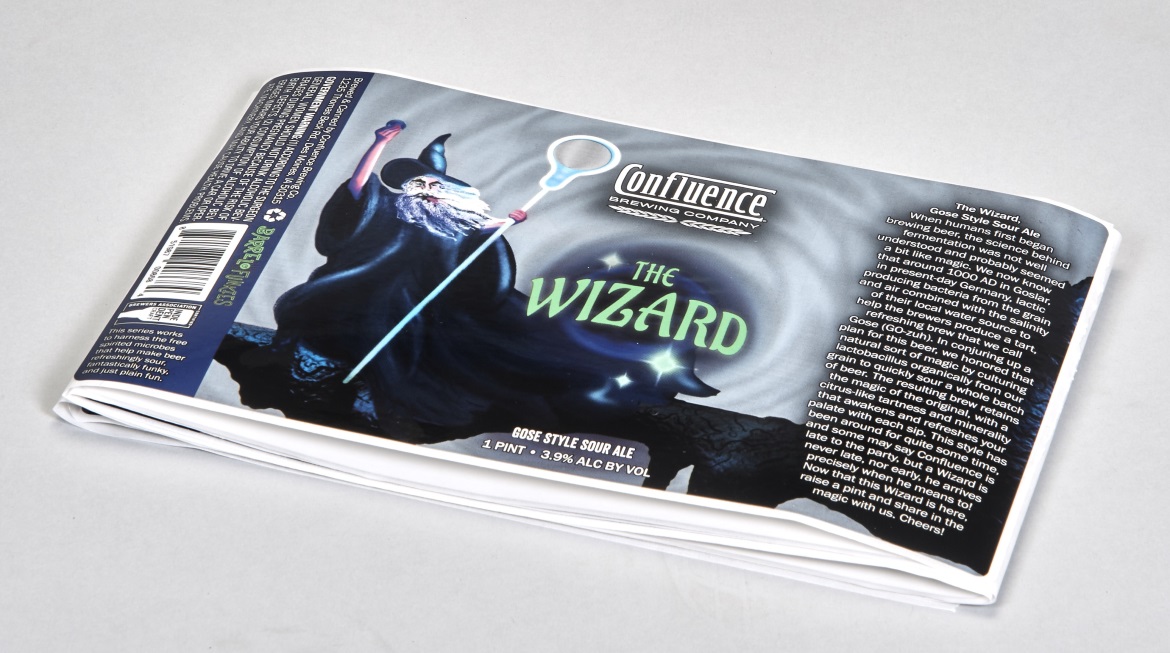 Grania Jain
In what the judges described as "a really impressive innovation," the label for Des Moines, Iowa, craft beer producer, Confluence Brewery, used Fathom's brand-new embellishment technology to render attention-grabbing full-motion 3D effects on labeling for the brewery's 'Wizard' Gose-style sour ale. The effects appear to be on three different levels: text and graphics on the label surface, a 'Northern Lights'-type effect seemingly moving within the can itself, and finally, at the top of the wizard's staff, a rotating orb that appears to emerge from the surface of the label.
And what made the job remarkable was the fact that all this was done without the need for lenticular lenses or a holographic foil, using FLEXCEL NX Plates on Grace Label's standard flexo press using standard inks. Traditionally, the use of holographic foils or lenticular lenses for short label print runs has been cost-prohibitive, while holographic foils also raise sustainability concerns since they are typically 95% waste. FLEXCEL NX Technology makes special effects labels a viable option for brands pushing the boundaries of regular packaging designs for shorter runs, with big cost and sustainability benefits that they can take advantage of.  
A strong-rooted relationship
Fathom Optics and Grace Label teamed up for the 'Wizard' label, which came about because of a friendship between the family of Tom Baran, CEO and Co-Founder of Fathom, and John Martin, owner/founder of Confluence, to whom Grace Label is an established label supplier. Founded in the mid-1970s by the father of current company president, Steve Grace, Grace Label is one of oldest and largest regional converters in the Midwest US, operating as a full-service supplier that handles every step of the design-to-delivery process. Besides the craft beer and spirits industries, Grace also serves customers in meat and agricultural foods. The company has both digital and flexo presses, with flexo printing representing 90% of their work.
FLEXCEL NX Technology "like getting a brand-new press"
Crucial to the success of the 'Wizard' project was the KODAK FLEXCEL NX System, which Grace Label installed in 2011. "With the ability to hold a dot and sharpen an image, it was like getting a brand-new press on some levels," recalls Steve Grace. "The plates last longer, we set up faster, dial in color faster, and reduce our wastage. It's been a home run."
Steve's enthusiasm for FLEXCEL NX Technology was shared by Fathom Optics founders Tom Baran and Matt Hirsch: "When we realized Grace was a FLEXCEL NX Plate user we were delighted," says Tom. "We'd already experienced good things with the technology, getting incredibly regular and consistent results. Compared to other systems we've worked with where variables come into play, it's one cohesive system, so you know what you're going to get."
A fourth party to the project is creative design agency 818 Iowa, who created the original design and worked with Confluence to enhance the labels most characteristic features — the wizard, staff and orb. Fathom then worked with Grace to bring everything to life. 
The effects are achieved by printing very fine microstructures on two interference screens. The first screen is printed on the white BOPP pressure-sensitive material, and the second screen is printed along with the other decorative inks on top of the clear lamination.
Because the microstructures are done at a minimum of 480 LPI or higher, the 1:1 pixel-for-pixel accuracy of the FLEXCEL NX Plates was essential to hold lines that are 10 microns wide and spaced approximately 42 microns apart. Says Tom: "These demanding effects can be incorporated into the same plate with the traditional 2D graphics, which may be at 133-175 LPI, without difficulty. It sounds highly challenging, but so far, every UV flexo printer we've worked with has been able to achieve some level of effects."