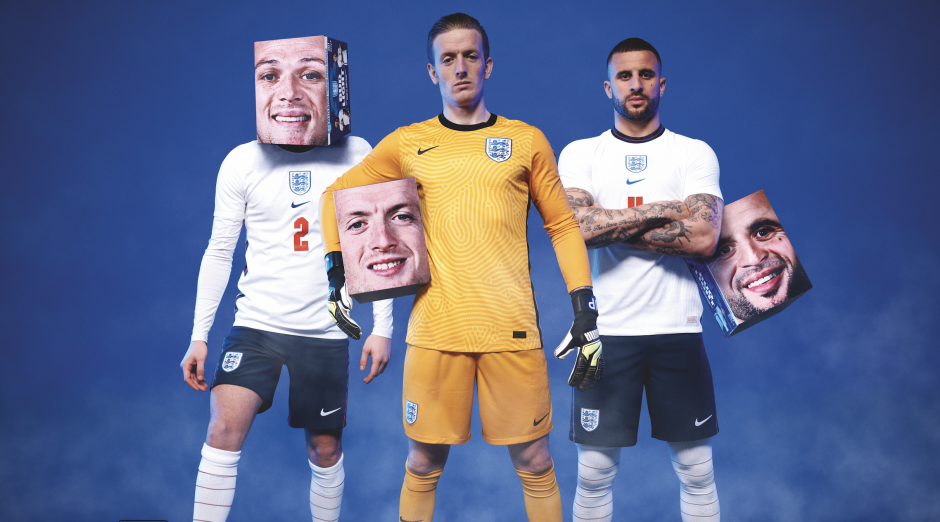 Grania Jain
Boxheads is a fully integrated campaign spanning TV, out-of-home, digital, social and PR to celebrate the brand's role as the official beer of the England men's football team.
All 12 and 20-bottle packs of Bud Light sold in England will be adorned by the larger-than-life faces of Jordan Pickford, Kyle Walker and Kieran Trippier, which can double up as a helmet for fans to proudly display their allegiance having drunk its contents.
A limited-edition England beer can be adorned by the Three Lions national team motif will complete the packaging tie-in.
Launched on May 11, the campaign has been created and developed by Wieden & Kennedy London, with Boxheads-branded crates available online and in-store.
Creative director Paddy Treacy said: "We're super excited to see what the public makes of it all. Starting a conversation around football. Putting an idea out into the world and seeing what comes back. Drink the beer. Wear the box. Support your team. It's that easy."
Martina Isella, senior brand manager for Bud Light, adds: "Brands often feature the face of their ambassadors on the packaging but Boxheads takes it to another level. There simply isn't anything like it out there. It's a revolutionary step forward in beer packaging, and we can't wait to see football fans across the country wearing Boxheads and supporting The Three Lions in a much more fun and immersive way."
To drive engagement still further, Bud Light has authored a new TV commercial that will dovetail with its packaging promotions.
The launch is further supported by the players themselves in a PR and social media blitz. Social media influencers, players and The Football Association will further amplify this message.
Kathryn Swarbrick, commercial director at The FA, remarked: "Bud Light has been an official sponsor of the England men's team since 2018 and we're delighted to see how Bud Light is bringing fun to Three Lions fans this summer as Officially the Official beer of England. While we may have had to wait a bit longer for this tournament, it's great to see how Bud Light is using its light-hearted humor to bring football fans closer to the action."
In-store activities will communicate the launch to shoppers, joined by an England beer store in partnership with Amazon.