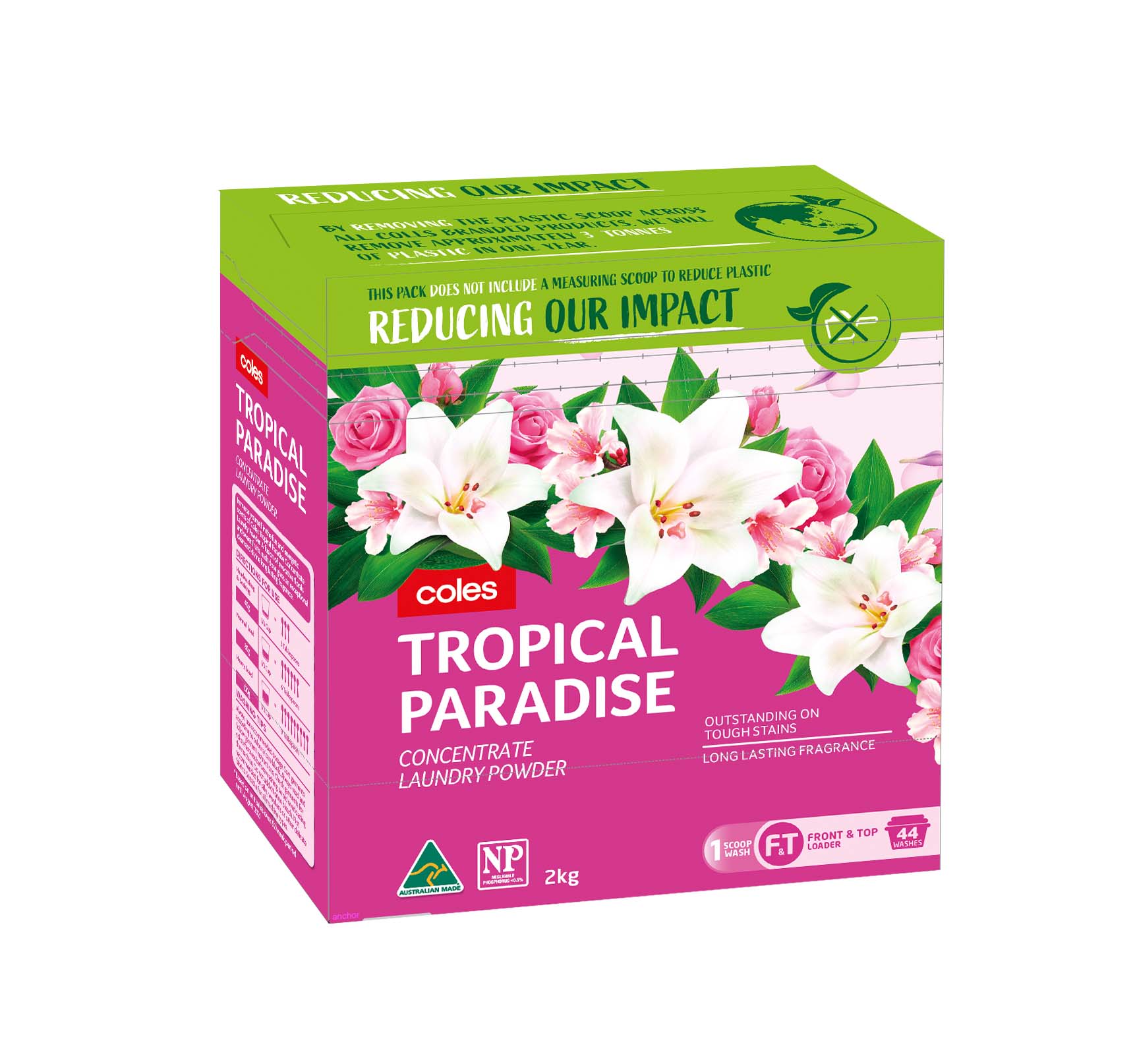 Grania Jain
Coles' Together to Zero waste ambition sees the supermarket continue to work with industry partners, suppliers, and customers to reduce waste and unnecessary plastics. 
Scoops from Coles Tropical Paradise and Coles Ultra Original and Sensitive laundry powders will be removed from April 1.
The new scoopless laundry powders will be specially marked with 'Reducing our Impact', with the packaging featuring a light green lid, ensuring customers can easily spot the packs. 
As shoppers become increasingly mindful of their plastic consumption, Coles is proud to offer customers a range of products without unnecessary plastic packaging, as well as recyclable packaging alternatives that do not compromise on quality or value.
Coles General Manager Own Brand, Quality & Responsible Sourcing Charlotte Rhodes said the removal of plastic scoops from laundry packs was another important step in Coles working toward its ambition of becoming Australia's most sustainable supermarket, with 87% of Coles Own Brand and Coles Own Liquor Brand primary packaging already recyclable.
"As customers look to live and shop more sustainably, Coles is leading the way in innovation and value, offering customers quality options across household necessities that won't hurt the planet or the budget. As part of our Together to zero waste journey, Coles is proud to provide customers with more sustainable solutions," she said. 
"Removing plastic scoops from Coles Brand laundry packs is a small step we can take with our customers that will reduce our environmental footprint. In addition to our wider sustainability initiatives, every change and commitment we make toward a greener future helps to create a better Australia for generations to come."
Customers who may still have plastic measuring scoops from Coles Brand detergents are encouraged to hold on to their scoops and reuse them. But while the plastic scoops in new packs will be removed from this week, packaging will still provide clear detergent dose instructions to help customers with measuring their powder without a scoop. 
Following the unveiling of Coles' Sustainability Strategy in June 2021, Coles has continued to make strides in its sustainability journey by working Together to Zero emissions and waste, as well as working Better Together with our Coles Brand suppliers to support farming and sourcing practices that are ethical, transparent, and sustainable.
Coles affirmed its commitment to packaging sustainability in 2021 by joining the Australia, New Zealand and Pacific Islands Plastics Pact (ANZPAC) as a founding member and continuing to work toward the Government's 2025 packaging targets.
Coles also recently celebrated 10 years of working with soft plastics recycling organisation, REDcycle. Through the partnership, Coles customers have returned more than 1.2 billion pieces of soft packaging to Coles supermarkets since 2011. The soft plastic is then recycled into a range of products including outdoor furniture, playground equipment and is even used in some Coles carparks.