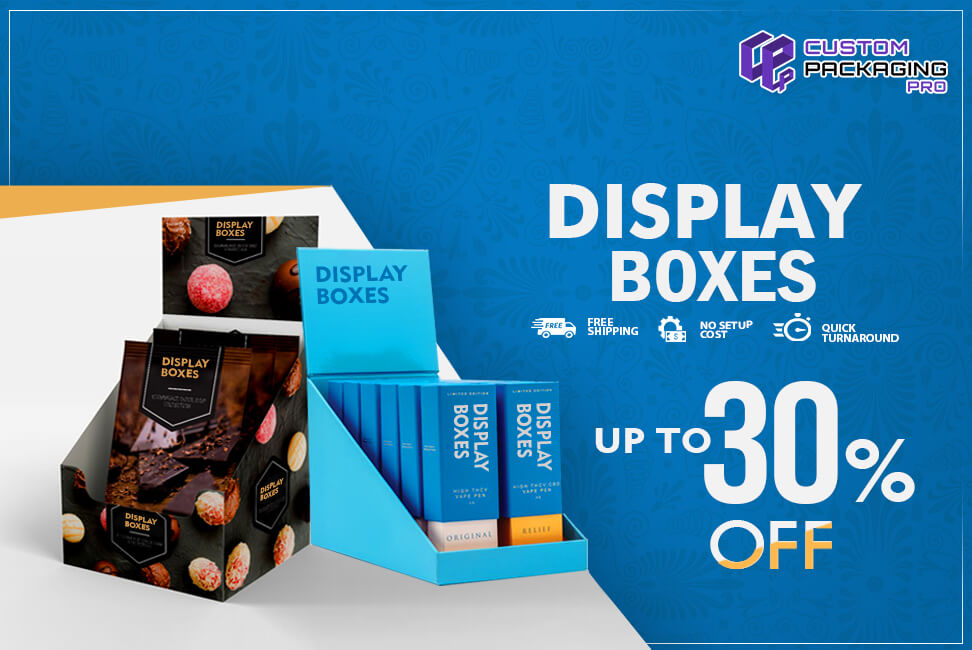 Corbin Spicer
In this era, we see number of people selling their products at high rates just by making its presentation luxury and special in front of the customers. The highly decorated product plays a magic on customers mind and they get ready to pay more than what it really deserves. It allows impulse purchasing in the retail store increases the sales no matter how small or large product you are selling. When we talk about the good presentation of the product, packaging plays a very important role. In fact it is all about the right material and printed colors and fancy outlook of the carrier in which the product is packed.
For small products, even the colorful presentation do not work and then you have to opt for some special Display Boxes that can show the brighter side of the product and promote it in front of the crowd with attractive presence.
Boxes that have made showcasing easy
It is not about showing off the product in the retail counter because the customer would only buy the product that satisfy their need. In fact it is about getting the attention of the potential buyer that he/she have this option. This ensure that the product will not get skip from the eyes of the customer and will be prominent in the shelf to every single person entering the store. This also ensure that the sales would increase and buyer can get better market share.
They have a totally different designs as compared to those of other boxes and have the ability to carry multiple products at a time. Different product manufacturer from different industries have started using them as they are cost effective, beneficial for sale increase and have very unique outlook as well. They are a popular choice for industries like cosmetics, electronics, mobile accessories and retail food manufacturers.
Cardboard displays for unique packaging
There are a number of boxes design to customize but displays are totally different from them. They are made from cardboard and have double layered side panels which gives them the strength to carry the weight of multiple products placed on them. They are used to showcase cosmetic items like lipsticks, lip glosses and other balms that make them look prominent at the cosmetic store. They are also used for electronics like mobile accessories items including hands free, data cable and various other multimedia items that are small in size. Various edibles items like chocolate bars, candies, and lollipops are also displayed to get the attention of the children. They are colorful and attractive to look at therefore, every customer notice them and tends to check the product that is inside the box.
Apart from so many advantages, these displays offer protection to the product as well. When they are designed, there are various partitions that are made in them so that multiple products can stand on them easily. These punch partitions hold the products tightly and customers feel good about them when they take out their item from them. Plus, they give them the protection they need to withstand the wear and tear during the product display. They can be kept on the counters and on any shelf of retail so that customers can notice them and the product inside them.
Different types of displays and their uses
Cardboard displays can be made in various sizes, and designs but there are few of their types as well which are very useful for the retailers and manufacturers. Floor displays which have a big size and have different shelves are used for the small cosmetics products like face masks, creams, makeup kits and many other small items. They are extensively used for bakery edibles like muffins and bread. They are highly customizable and companies use them for brand promotion and advertisement as well. Having a tall design, they can be noticed easily and manufacturers always send them to retailers to showcase their product in them. The logo and trademark makes it easy for the customers to know about the brand and company and for new companies it is the best thing to have. They can communicate with the potential buyers through them and make a statement to convince customers.
Counter top and peg hook displays for bath essentials
Apart from floor displays, peg hook type of boxes is used for hanging the items that are already in small packaging that have handing tab on the top. This allows the manufacturer to hang them on the peg hook box to become noticeable for the customers. Counter top displays with lid is another type that have a large lid on the back which is printed with brand logo and other details to promote the brand effectively in front of the customers.
Counter top displays are used for bath essentials like sops, bath bombs and shampoo sachets and manufacturers use them for the sake of promoting their new products as well. Soap Boxes with window are also used for the purpose of showcasing but they can only accommodate a few soap bars. Whereas the displays can have more than 10 soap bars at a time. Apart from that, they can be easily assembled and filled with the products as compared to the other boxes designs available. They display shippers are even used for shipping as well that have multiple benefits to the manufacturers.