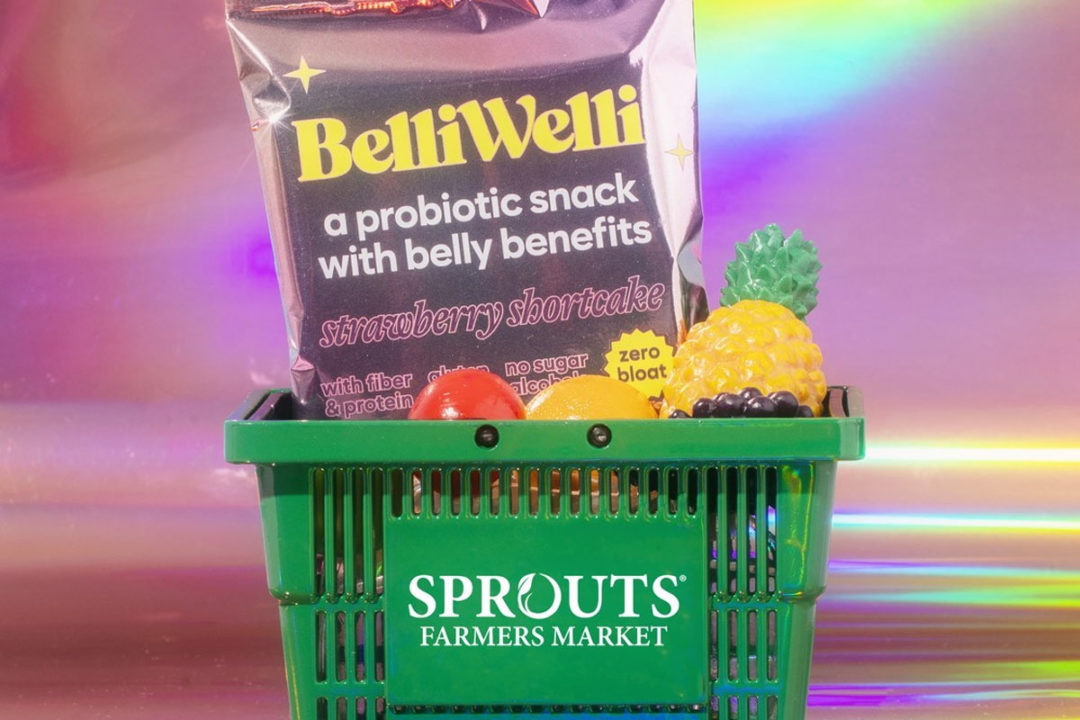 BelliWelli, a brand of soft-baked nutrition bars developed for the millions of Americans suffering from irritable bowel syndrome, is slated to launch at Sprouts Farmers Market stores nationwide, joining regional retailers including Harmons Neighborhood Grocer, Earth Fare, Gelson's, Central Market and Mother's Market & Kitchen. The products are gluten-free, plant-based and certified by Monash University as low-FODMAP, a term gaining awareness and referring to fermentable oligosaccharides, disaccharides, monosaccharides and polyols, which may trigger discomfort and bloating in those with sensitivities. The main ingredients are oats, chia, almond butter and coconut oil, plus probiotics to support digestive health.
Flavors include chocolate chip, fudge brownie, strawberry shortcake, blueberry muffin, cinnamon swirl and birthday cake.
Prior to the rollout, BelliWelli polled its consumers through email, Instagram and TikTok, gathering hundreds of responses on box and wrapping options, said Katie Wilson, co-founder and chief executive officer of BelliWelli. The brand landed on a hot pink scheme.
"Our community has influenced every decision we've ever made — they literally chose the name of the company — so it only made sense to consult with our community on the next iteration of our packaging," Ms. Wilson said. "Aside from it feeling natural for the brand, I firmly believe that our customers — and potential customers — will always have better intuition about what is or isn't appealing."
BelliWelli, which initially debuted last year, will continue to expand its retail footprint while introducing new products, Ms. Wilson said.
"My goal is for BelliWelli to eventually live in four aisles in the grocery store and be widely recognized as the neon pink brand that champions gut health in a fresh, approachable way," she said.
The company also plans to build on its successful billboard campaign, which boosted sales and social media impressions over the past year with its "Hot Girls Have IBS" billboards in Los Angeles, New York City and Portland, Ore.
Previously a celebrity matchmaker (who also held the role of chief dating expert at Match.com), Ms. Wilson had endured a battery of colonoscopies, endoscopies and more, desperate to resolve her chronic abdominal symptoms. With no prior consumer products experience, she and her husband, Nick, a professional model, created the brand after experimenting with more than 100 recipes and partnering with food scientists and dietitians to fine-tune market-ready formulations.
"Expanding into a nationwide retailer like Sprouts will allow us to target a new audience and introduce BelliWelli to consumers who are searching for new belly besties or looking to improve overall gut health," Ms. Wilson said. "Engaging and listening to our customers is what makes our brand so successful. We've built a powerful community at BelliWelli and are thrilled to partner with a prestigious retailer who shares our vision of offering natural and healthier alternatives that are beneficial and delicious."