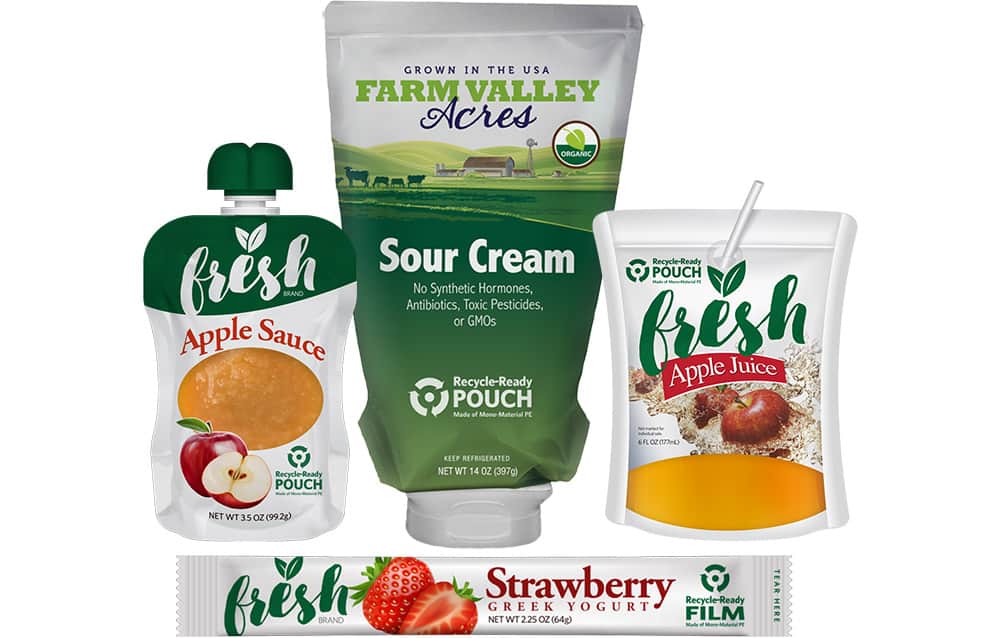 Press Packagingconnections
AmPrima™ PE Plus recycle ready solutions provide brand owners with innovative packaging that supports recyclability in categories that have been historically challenging. At the same time, AmPrima PE Plus innovation delivers highly durable hermetic edge and fitment seals that perform well under abusive manufacturing, distribution and usage conditions.
Amcor, a leader in responsible packaging design and development has engineered a high-barrier flexible film that provides superior heat resistance and is a more-sustainable alternative to standard metallized or foil-based structures.
"We know that in today's world of high-performance equipment, rigorous quality testing and consumer-driven environmental consciousness, developing a recycle-ready solution that delivers on all attributes is crucial," said Amcor Marketing Director Brian Douglas. "Our proprietary, oriented structure has a demonstrated ability to run on commercial converting and filling equipment at the same machine speeds as non-recyclable material, putting it in a different class from other conventionally-oriented, recyclable film options."
Amcor's AmPrima PE Plus heat resistant recycle ready solutions for pouches delivers significant value in multiple ways. It offers:
Pre-qualification of film by How2Recycle® in the U.S for applications that meet the clean and dry requirement
Sealing and spout insertion without distortion due to heat-resistant outer web
Ability to match current run cycles per minute achieved with a non-recyclable oriented polyester laminate
Product quality and flavor preservation with high-barrier properties comparable to AlOx or metallized films
Excellent durability for distribution, including puncture and scuff resistance
A 22% reduction in carbon footprint for AmPrima PE Plus heat resistant pouches compared to a 3ply foil solution even when the used packaging is landfilled. Once recycled the reduction increases to 49%.*
*Verified by ASSET™ – Amcor's proprietary lifecycle assessment tool certified by the Carbon Trust
Leading the market with the first high-barrier, high-speed, heat-resistant, recycle-ready solution is a strategic opportunity for today's environmentally-focused brands.
About Amcor
Amcor is a global leader in developing and producing responsible packaging for food, beverage, pharmaceutical, medical, home and personal-care, and other products. Amcor works with leading companies around the world to protect their products and the people who rely on them, differentiate brands, and improve supply chains through a range of flexible and rigid packaging, specialty cartons, closures, and services. The company is focused on making packaging that is increasingly light-weighted, recyclable and reusable, and made using an increasing amount of recycled content. Around 46,000 Amcor people generate $13 billion in annual sales from operations that span about 225 locations in 40-plus countries. NYSE: AMCR; ASX: AMC