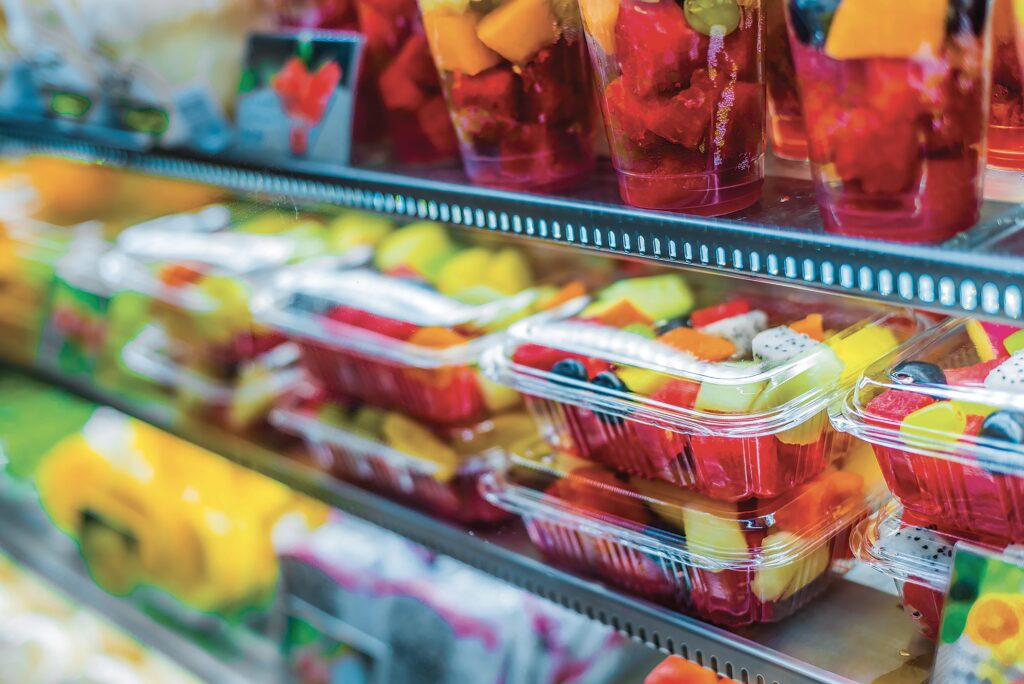 Food packaging technologies and trends were rapidly evolving. Since then, several new advancements and trends have likely emerged. However, here are some general trends and technologies that were gaining traction in the food packaging industry.
Sustainable Packaging
With increasing consumer demand for sustainable packaging, companies are exploring alternative packaging materials that are more environmentally friendly, such as biodegradable plastics, recycled paper, and plant-based packaging.
Many companies are also redesigning their packaging to minimize waste, reduce the use of non-recyclable materials, and increase the use of renewable materials.
Minimalist Design
Minimalist packaging design is becoming increasingly popular, with many companies opting for simple, clean, and uncluttered packaging that emphasizes the product inside.
This design trend is especially prevalent in the health and wellness sector, where clean and simple packaging helps to communicate the product's purity and natural ingredients.
Interactive Packaging
Interactive packaging is a design trend that involves packaging that encourages consumers to interact with the product or packaging.
This can include QR codes that link to product information, augmented reality packaging that provides an immersive experience, and packaging that can be repurposed into a toy or other product after use.
Personalization
Personalized packaging is a trend that involves customizing packaging to meet individual consumer needs. This can include personalized messages, graphics, or even the consumer's name on the packaging. This trend is becoming increasingly popular as consumers seek products that are tailored to their preferences and needs.
Smart Packaging
Smart packaging refers to packaging that is embedded with sensors or other technology to provide consumers with additional information about the product, such as its nutritional content, freshness, and storage recommendations.
This technology can also help reduce food waste by providing consumers with information on properly storing and using the product.
Transparency
Transparency in packaging design involves providing consumers with clear and accurate information about the product and its ingredients.
This trend is becoming increasingly popular as consumers become more health-conscious and seek out products that are free from harmful chemicals and additives.
Eco-Friendly Packaging
Eco-friendly packaging is a trend that involves using sustainable materials and processes to produce biodegradable, compostable, or recyclable packaging.
This trend is becoming increasingly popular as consumers become more aware of the impact of packaging on the environment and seek out products that are produced with sustainable materials and processes.
The Impact of Packaging on Food Branding
In the world of marketing, branding is an essential tool for companies to differentiate themselves from their competitors. Packaging design plays a significant role in establishing a brand identity and promoting brand recognition. In the food industry, the packaging is an integral part of product marketing, and how a product is packaged can significantly impact its success.
Establishing a Brand Identity
Packaging design can establish a brand identity by creating a unique visual language that sets the product apart from competitors.
A well-designed package can communicate the brand's values and personality, making it more memorable to consumers. This is particularly important in a crowded market where differentiation is key.
Enhancing Brand Recognition
Packaging design can enhance brand recognition by creating a consistent visual language across a range of products. Consistent branding across packaging and other marketing materials can help to reinforce brand recognition, making it easier for consumers to identify a product and associate it with a particular brand.
Communicating Product Features and Benefits
Packaging design can also be used to communicate a product's features and benefits. This can be achieved through the use of graphics, text, and other design elements.
For example, a package might feature a clear window to showcase the product or include a list of ingredients to highlight the product's health benefits.
Driving Purchase Decisions
Packaging can play a crucial role in driving purchase decisions. A well-designed package can catch a consumer's eye and draw them towards a product, making them more likely to make a purchase.
Additionally, packaging can communicate product benefits and features, making it easier for consumers to understand the value of a product and why they should choose it over a competitor.
Influencing Perceptions of Quality
The quality of a product is often judged based on the packaging. A poorly designed package can make a product appear cheap or low-quality, while a well-designed package can communicate a sense of luxury and sophistication.
Packaging can also influence perceptions of a product's freshness and shelf-life, which can be important factors for consumers when making a purchase decision.
Supporting Sustainability Goals
There has been a growing trend toward sustainable packaging design in recent years. Brands are increasingly looking for ways to reduce their environmental impact, and packaging design can play a role in achieving this goal.
Sustainable packaging materials, such as biodegradable plastics and paper-based packaging, can help brands reduce their carbon footprint and appeal to environmentally conscious consumers.
Innovative Packaging Technologies
Innovative packaging technologies have transformed the way we store, transport, and consume food products. These technologies have revolutionized the food packaging industry by introducing new materials, designs, and functions.
Edible packaging
Edible packaging is a new technology that has gained popularity in recent years. It uses natural ingredients to create packaging that can be consumed with food. This technology reduces waste, as the packaging is not discarded, and provides a unique experience for consumers.
Edible packaging can also extend the shelf life of food products and protect them from external factors.
Active packaging
Active packaging is another innovative technology that helps maintain food products' quality and freshness. It involves adding active components to the packaging that can interact with the food to preserve its quality.
For example, oxygen scavengers can be added to the packaging to absorb oxygen and prevent spoilage, while antimicrobial agents can be added to prevent the growth of bacteria.
Nanotechnology
Nanotechnology is a field that involves manipulating materials at the molecular level to create new products and technologies. Nanotechnology has been used in the food packaging industry to create new materials with unique properties.
For example, nanocellulose can be used to create stronger and more durable packaging materials, while nanosensors can be used to monitor the condition of packaged food.
Biodegradable packaging
Biodegradable packaging is an innovative technology that reduces waste and promotes sustainability. It uses materials that can be broken down by natural processes, such as bacteria and fungi, into harmless substances.
This technology helps to reduce the amount of waste that ends up in landfills and can also be used to create compost.