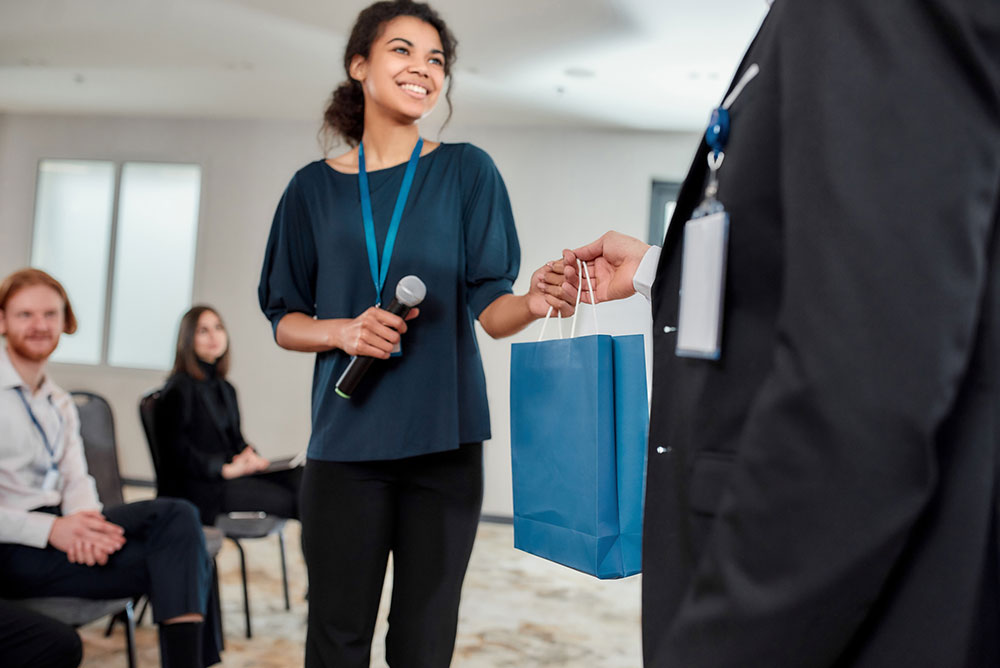 While every corporate event attendee appreciates receiving a gift bag at the event's culmination, many of those gift bags still contain single-use items or, worse, get thrown away immediately upon leaving. This happens not because the receiver wasn't appreciative of what they got but because the business handing out the event favors didn't put a lot of thought and effort into what goes into their giveaway. 
Organizations have to think thoroughly about their gift bags. These are, after all, a form of marketing paraphernalia. Suitable event gift bags can boost your brand name, image, and entity, while skimping on them can wreak havoc on your organization's reputation to the public.

If you want to take a be ahead of your competition and be able to give away useful event gift bags, read through this savvy guide of what you should and shouldn't do. 

Consider Eco-Friendly Packaging Options 

First on this list is the most impactful of all corporate gift bags dos. Individuals today are considering making eco-friendly decisions seriously. Companies stuck in giving out single-use corporate gifts must develop new choices like eco friendly packaging. Paper and eco bags are no-fail ideas. 

The whole premise here is that the gift bag has strong potential to be re-used even after they've reached home. When you think about it, this is a marketing advantage as well. For instance, every time your company's eco bag gets used, the reach and attention your logo gets multiply. That's still advertising, right there. 

With that, you're hitting two birds with one stone. First, you're acing your organization's marketing strategies. Second, you're striking the fancy of event-goers who prefer eco-friendly and reusable packaging.

See Yourself Using Your Gift Bags

Before you order bulk from your supplier for items to include in the corporate event gift bag, ask yourself whether you see yourself using those items. Remember, you must help the receivers see themselves using your gifts too. But this can never be possible if you don't even give receivers something with solid functionality and practicality. 

It's time to step out of the usual notepads, pens, and tumblers, although those are really useful as well. There are other categories of items other companies may not have thought of exploring yet, that event attendees will be glad to receive, like: 
Child-friendly giveaway items, especially if you're a brand that focuses on parenting and children's products; 
Electronics such as chargers, universal adapters, and power banks; 
Sanitation items like a pack of tissue, wet wipes, or alcohol; 
Medical products, like everyday, over-the-counter medications and vitamins; 
Travel suppliers; and so on. 
The point of the list above is to encourage you to think outside the box. Make your corporate event gift bag stand out from the fifty other booths at the same conference by handing out unique yet impactful event giveaways.  

Always Plan Your Budget 

Like any other facet of launching marketing activities and hosting corporate events, considering finances is crucial. Always plan your budget. Once the guest list is confirmed, you can know how much to budget for each one. That way, you can have a close-to-reality estimate as to what your event gift bags' budget is in total. 

There's no need to go above and beyond your budget for corporate event gifts. Instead, it's more about finding the best suppliers to enjoy a competitive price for bulk orders while maintaining the quality and usefulness of each item in your event gift bag. 

Include A Welcome Or Thank You Note 

Whatever items you decide to put in your corporate gift bag, don't forget that having a welcome or thank you note is imperative. Your bag will never be complete without one, as it shows your whole intention for handing out the event gift bags in the first place: that you're grateful for the recipient's attendance. 

You could attach your organization's business card along with your welcome or thank you note. This is a strong call to action. Now, there will be higher hopes that calls and inquiries in your business increase because attendees have your contact information through the business cards you've placed in your gift bags. 

The Bottomline 

Giving out corporate event gift bags isn't always necessary, but it's a nice add-on at the end of every event. There's no better way to make a striking impact than by handing out gift bags as the attendees are about to leave. This notion is, however, limited only as far as the gift bags are well-thought-out. With the suggestions above, now you'll be able to take a new twist into your corporate gift bags.