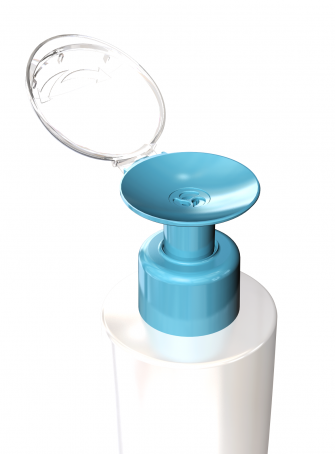 Vita is the new one-hand dispensing system from Aptar, that features a unique design and offers a new cleaner and easier gesture for cotton pad applications of water-like formulations.
News:
Vita is ideal for parents looking for secure, clean and easy-to-use baby care products.
Vita ambition is to become a must-have for women as its new gesture will ease their daily use of water-like skin care products.
TECHNICAL INFORMATION
Transparent / translucent lid
Twist-to-lock system
Sealing in both locked and unlocked position
Metal free pathway for easy product compatibility
Options: metalized shell, sleever, transport clip, clip TE
Dosages: 0,8cc and 1,2cc
Closures
24-410 - 2N, 3N, N-shelled
28-400 - 2N, 3N
28-410 - 1N, 2N, 3N, N-shelled
28-415 - 1N, 3N
28-410 T ( rachet finish) - 1N
27-230 (Snap-on) - 1N
APPLICATION FIELDS
Baby Care
Body Care
Facial Skin Care › Dispensers
Personal Cleansing
Surface Care