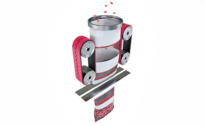 The basis is always an endless branded timing belt. Endlessly coated, it has above-average functional reliability. Due to tight manufacturing tolerances, the Esband vacuum trigger belts ensure consistency at high cycle rates.
Backing materials and coatings with particularly high abrasion resistance are available to extend the service life. At the same time, an optimal coefficient of friction can be achieved for the respective application. Customers can choose between coatings made of natural rubber, silicone or polyurethane, each with different surface textures.
In addition to standard versions for all well-known OEMs in the industry (for example Bosch), customer-specific processing such as milling or perforation is also possible. With customizable endless flat belts, weighing belts, sausage conveyor belts or separator belts, Max Schlatterer GmbH & Co. KG offers further solutions for food processing.