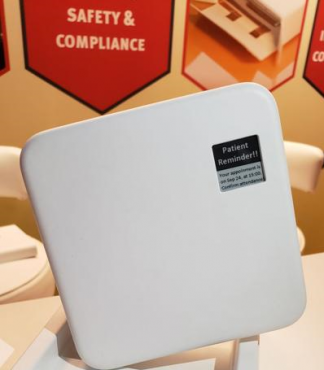 Vishu Dixit
RyPax recently launched TecPax – an innovative new solution to revolutionize the possibilities of sustainable packaging, it says. The benefits of include improved packaging efficiency and optimized consumer engagement experiences, according to the company. A number of prototypes were shown in conjunction with E Ink, for pharmaceutical applications, at the recent AIPIA World Congress. E Ink's ePaper is a digital display that can show critical information on the product in both text and graphics.
An example of TecPax technology is the integration of a digital display on recyclable and refillable molded fibre packaging. Another example is the incorporation of chatbot technology into moulded fiber packaging. This clever, adaptable chatbot can provide instructions and guidance for consumers on how to use the product.
"In both these examples, the introduction of TecPax has reduced the need for a printed manual," said Alvin Lim, CEO of RyPax. "The result is a greener approach to packaging, reduced costs as well as an improved consumer experience."
"RyPax is proud to form a strategic partnership with the market leader for ePaper displays, E Ink, to pioneer the use of its smart packaging technology on our sustainable packaging. As consumers become more technologically advanced and socially aware of the need to be green, the integration of ePaper displays on reusable and refillable RyPax moulded fibre packaging can help support sustainability efforts, while providing easy access to product information," he added.
"We look forward to creating with RyPax the next generation of smart packaging solutions to assist our customers with their reduce-and-reuse initiatives. Instead of printing out all pages of pharmaceutical booklets in every language, we can reduce paper waste by displaying and "reprinting" market-relevant or personalized content in one single ePaper display," said FY Gan, executive VP of business center at E Ink. "This is a game changer for not only the pharmaceutical industry, but for a wide range of smart packaging applications."
The companies expect to roll out this integrated packaging solution to their pharmaceutical and electronics clients as soon as the first quarter of 2020. They are also seeking partners to co-create the ecosystem for smart and sustainable/reusable packaging.