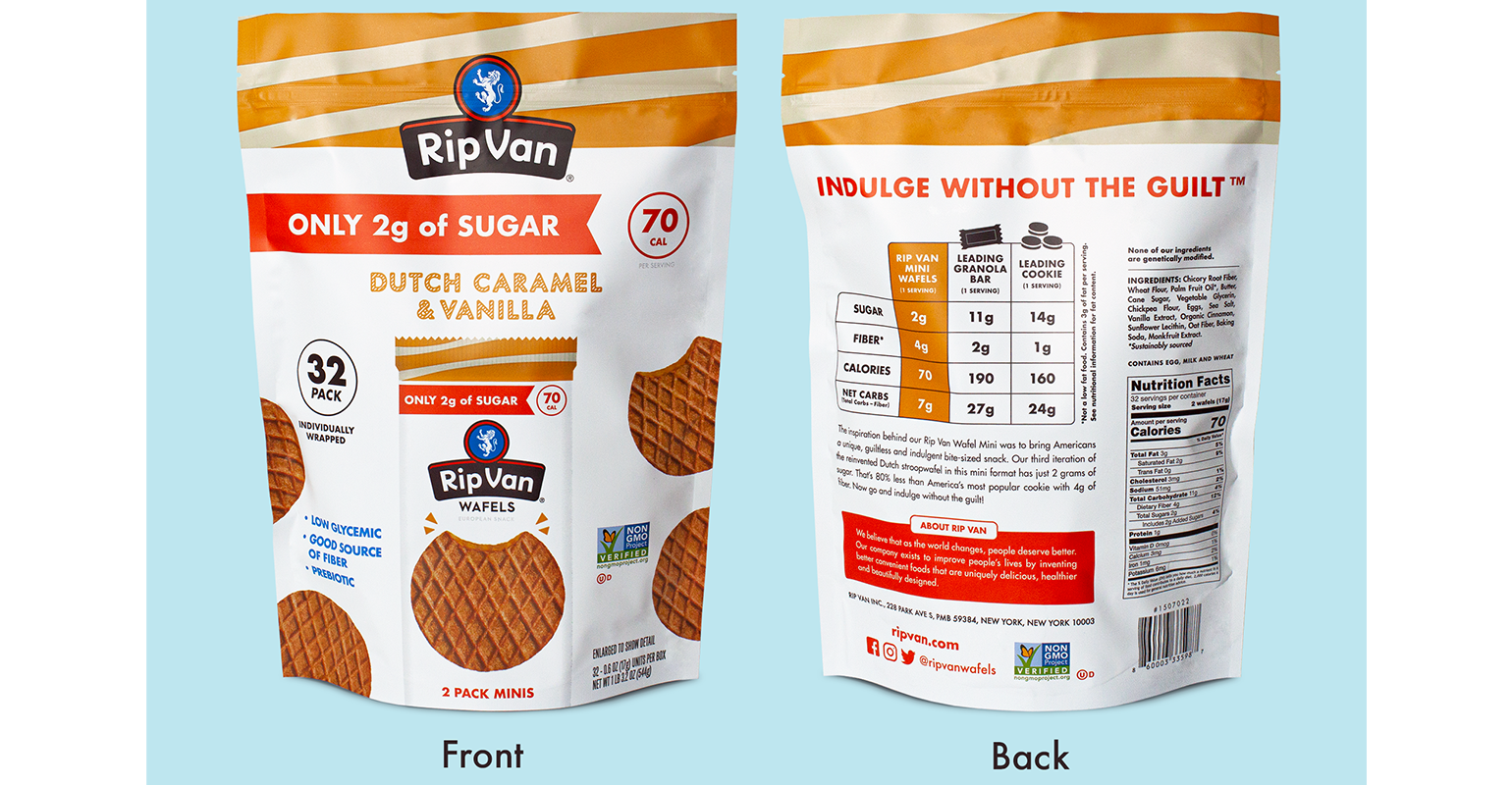 It's big news when a brand gains on-shelf placement at a major retailer like Costco, but that excitement multiplies when it's a new product launch from a small company like Rip Van in Brooklyn, NY.
"We feel this is a major tipping point for our brand," Rip Pruisken, co-founder says. "Families are a core demographic so being able to meet more parents where they shop is a major win for us."
Launched March 1 in select Northeast, Los Angeles, and Hawaii Costco locations, Rip Van's new tandem minis single packs in a 32-count club-store-size pouch retail for $9.99. The new presentation offers consumers Rip Van's signature Dutch Caramel & Vanilla stroopwafels mini packs in larger, more convenient form that's also the minis debut in a multipack.
And it presents a unique new entry in Costco's formidable cookie lineup.
"When we went to the Costco cookie aisle, we realized that, while delicious, most of the available offerings aren't very good for you," recalls Pruisken. "We set out to bring an accessible snack to consumers across the country and are excited to introduce more people to our unique and low-sugar stroopwafel — the perfect better-for-you cookie."
"On a mission to improve lives through better convenient snacks", Rip Van developed new packaging exclusively for Costco members.
From a design perspective, the development and hierarchy placement of key elements and callouts was straightforward. In fact, the design was handled in-house using the signature brand aesthetic that's been in place for a few years with the trademark flavor band on top, Pruisken reports.
That's paired front-of-pack with the logo and the critical low-sugar claim, which Costco suggested should be emphasized.
"That's something we already do in our standard packaging, but Costco knew that this would be a particular selling point for their shoppers," Pruisken points out. "It was important that we differentiate ourselves as an incredibly delicious snack with much lower sugar than anything else currently available on shelves."
It was essential to show the inner packaging and product as well.
"We wanted to ensure that the package clearly communicated what shoppers could expect to see inside, so having an image of the two-pack itself shown was critical," Pruisken explains. "Because not everyone is familiar with stroopwafels, we wanted to represent that on the packaging, too."
It's not the first time the brand has used the mini tandem packs' convenient serving size that delivers just 2 grams of sugar, 70 calories, and 4 grams of fiber.
"We've experimented with these tandem mini packs on Alaska Airlines' First Class, but this bulk format is entirely new to Costco," he says. "Whether for a kid's lunchbox or a snack at work, the small, thin package portions out the ideal snack size that fits into a bag or pocket."
Although he declined to identify the suppliers involved, Pruisken discloses that "attention was given to the tandem mini packs' structure to ensure freshness in this bulk packaging. Because these are individually packaged, they have a longer shelf life."
Rip Van expects the channel will introduce club-store members to their favorite new guilt-free snack.