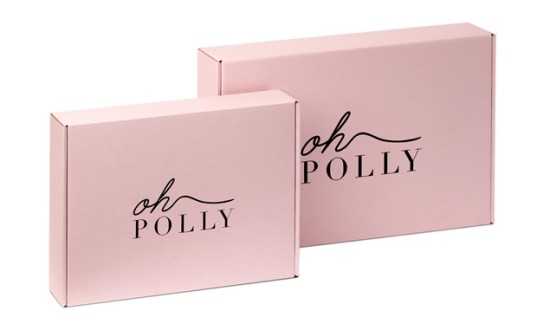 Oh Polly faced stiff competition and so were keen to make sure their customer experience was flawless.
As a pure-play online retailer, Oh Polly's packaging is a crucial part of their e-commerce strategy.
Oh Polly were coming up against several issues with their packaging.
The first was that they had noticed that the print quality varied greatly – meaning that the boxes arrived showing different shades of their core brand pantone colour.
They were keen to ensure that the packaging was uniform, as it showcases brand continuity.
Smurfit Kappa Experience Centre team offered expertise from sustainability to aesthetics, and they quickly set to work.
It resolved quality issues, reduced packaging waste, improved packing efficiencies with machinery and brought packaging manufacturing into the UK.
The materials used in the new packaging design are 100% recyclable.
The Oh Polly team were also concerned about the packaging for their sub-brand, Bo+Tee.
The Bo+Tee packaging is striking, a bold black emblazoned with a holographic print.
The Experience Centre team suggested using lithographic printing to deliver the sleek effect desired, maintaining the brand's quality whilst allowing Bo+Tee to stand out.
Smurfit Kappa designed and produced the packaging all within the UK is also a key factor: it reduces shipping times hugely.
The original packaging was arriving un-palletised, meaning that they had to have employees manually off-loading packaging from containers and transported across several warehouses in order to be utilised for packaging orders.
This was not only leading to damaged boxes during transit from Asia to Europe, but was hugely time-inefficient.
A simple but highly impactful solution put in place by Smurfit Kappa was to ensure all packaging is delivered safely on pallets, with strapping and topboard to ensure a quick and smooth delivery and unloading process.
Joe Henderson, Oh Polly's Head of Operations, said: "Smurfit Kappa have saved us so much time and money with their expertise – we can't thank the Experience Centre team enough".
Hamed Ahmed, Smurfit Kappa's eCommerce director, said: "We have built a strong and transparent partnership over the last 18 months. The Experience Centre team look forward to supporting Oh Polly's brands further as they grow and strive in this competitive market."