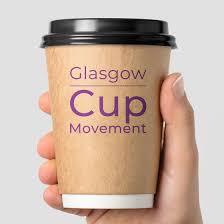 Buchanan Galleries and Glasgow fort became the first two major Scottish retail operators to confirm supporting the Cup Movement® in Glasgow. Along with Glasgow Fort, Buchanan Galleries is backing this first Scottish initiative to stop single-use cups going to landfill or ending up as litter. Launched in Glasgow in January, Cup Movement® has been developed by environmental charity, Keep Scotland Beautiful, in response to growing public concern about the environmental impact of single-use items. With an estimated 95 million single-use cups being used in the Greater Glasgow area every year, the pioneering Cup Movement® project will tackle this issue head on by transforming recycling infrastructure and encouraging people to adopt more sustainable behaviours.
Buchanan Galleries and Glasgow Fort are backing Cup Movement® with opportunities for both customers and retailers to take part, and are signing up to Cup Movement®'s recycling service, provided in collaboration with Simply Cups, which will divert millions of cups from bins and instead transform them into second-life materials.
Roseanna Cunningham MSP, Cabinet Secretary for the Environment commented: "It's fantastic to see two leading Glasgow retail operators standing up and taking positive action on the issue of single-use cups. A number of retailers are already supporting Cup Movement® in Glasgow and I hope that many other businesses will follow their example."
 Kathy Murdoch, Centre Manager at Buchanan Galleries, said: "We are really pleased to be a part of Cup Movement®. As a busy shopping centre in the heart of the city, we take our environmental responsibilities very seriously and are always looking for new measures to reduce our own waste and that of our customers. We all have a role to play in keeping our planet healthy and we look forward to seeing this movement grow."