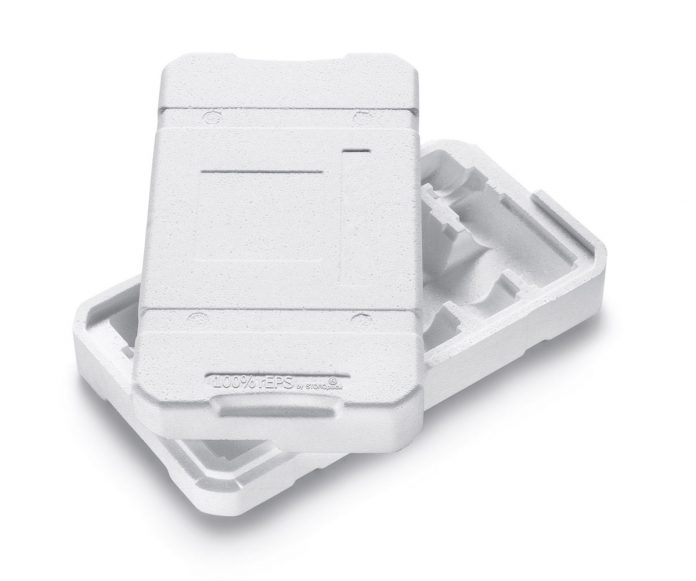 Press Packagingconnections
The first customer of the rEPS packaging is French firm Prevor, which is using the material for protecting medical products during shipping. Prevor claims that the rEPS packs enable the elimination of secondary packaging. A project with a manufacturer of cleaning equipment has also started in Germany.
Storopack has a fully integrated rEPS production process, whereby it handles the recycling and production of rEPS beads at its own factories.
Storopack is currently working with two partners in order to put the 'circular economy' principle into practice. Customers of a household appliances and consumer electronics retailer are able to return used EPS protective packaging once they have received their goods. This packaging will be forwarded to the company Eco2PR for further processing; finally, Storopack recycles the raw material in a patented process and uses it to produce new protective packaging.
Storopack is the exclusive packaging partner of the French network Réseau National des Recycleurs de Polystyrène expansé (R.N.R.P.), which has set itself the goal of creating an efficient recycling loop for EPS and a sustainable utilisation of this raw material.
Protective packaging made from 100 per cent rEPS is claimed to not only offer an improved carbon footprint, but also the same reliable protection as products in conventional EPS.
The German converter has also signed up to the Recyqualipso corporate initiative in France, which aims to find a way of recycling PS yoghurt pots into rEPS. Recyqualipso was launched in 2019 in France by Valorplast and Syndifrais, and with the financial and technical support of CITEO. In 2019, Storopack made more than 30 per cent of its in-house products using renewable or recycled materials – and is striving to increase this figure to more than 50 per cent by 2025.