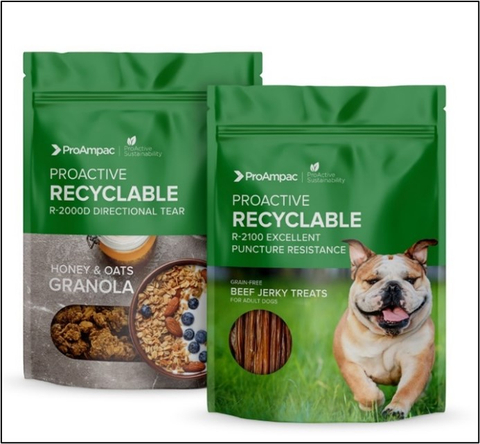 Grania Jain
Flexible packaging leader ProAmpac announces the launch of R-2000D, their newest patent-pending addition to the ProActive Recyclable® series of polyethylene-based structures. Designed to be a drop-in replacement for conventional multi-material laminates, R-2000D's unique performance characteristics allow it to run at high-speeds on form/fill/seal equipment.
R-2000D is the newest member of the ProActive Sustainability family and available in standard, high barrier and ultra-high barrier to extend the shelf-life of dry products. Both standard and high barrier platforms have been tested and pre-qualified for polyethylene store-drop-off recycling.
"ProAmpac continues to deliver on our mission to help our customers meet their sustainable packaging goals. The ProActive Recyclable® R-2000D series replaces conventional multi-material laminated films with recyclable alternatives without sacrificing performance," states Adam Grose, chief commercial officer for ProAmpac.
Available in rollstock or premade pouches, R-2000D offers very high clarity, high drop resistance, excellent stiffness and dimpling resistance for premium shelf appearance. R-2000D provides excellent directional tear without the need for laser scoring and R-2100D provides improved toughness for sharp products like nuts, pet treats and pretzels. With superior heat resistance R-2000D allows for optimal speeds, a wide operating window and high efficiencies on filling lines.
Hesam Tabatabaei, vice president of product development and innovation for ProAmpac, states, "Engineering a high-performance recyclable solution that replaces high barrier PET/PE, Nylon/PE, PET/metalized PET/PE, and in some cases PET/Foil/PE was a multi-year material science research and development project. R-2000D is engineered to withstand aggressive filling and distribution environments. Its unique multilayer technology allows it to run on high-speed filling lines without facing film or ink distortion in the seal area especially for products with a reclose feature."
R-2000D utilizes ProAmpac's award-winning HD flexographic printed graphics and is available with matte or gloss registration to offer brands a package that pops off the shelf. In addition to the R-2000D series, ProAmpac offers a range of ProActive Recyclable solutions.