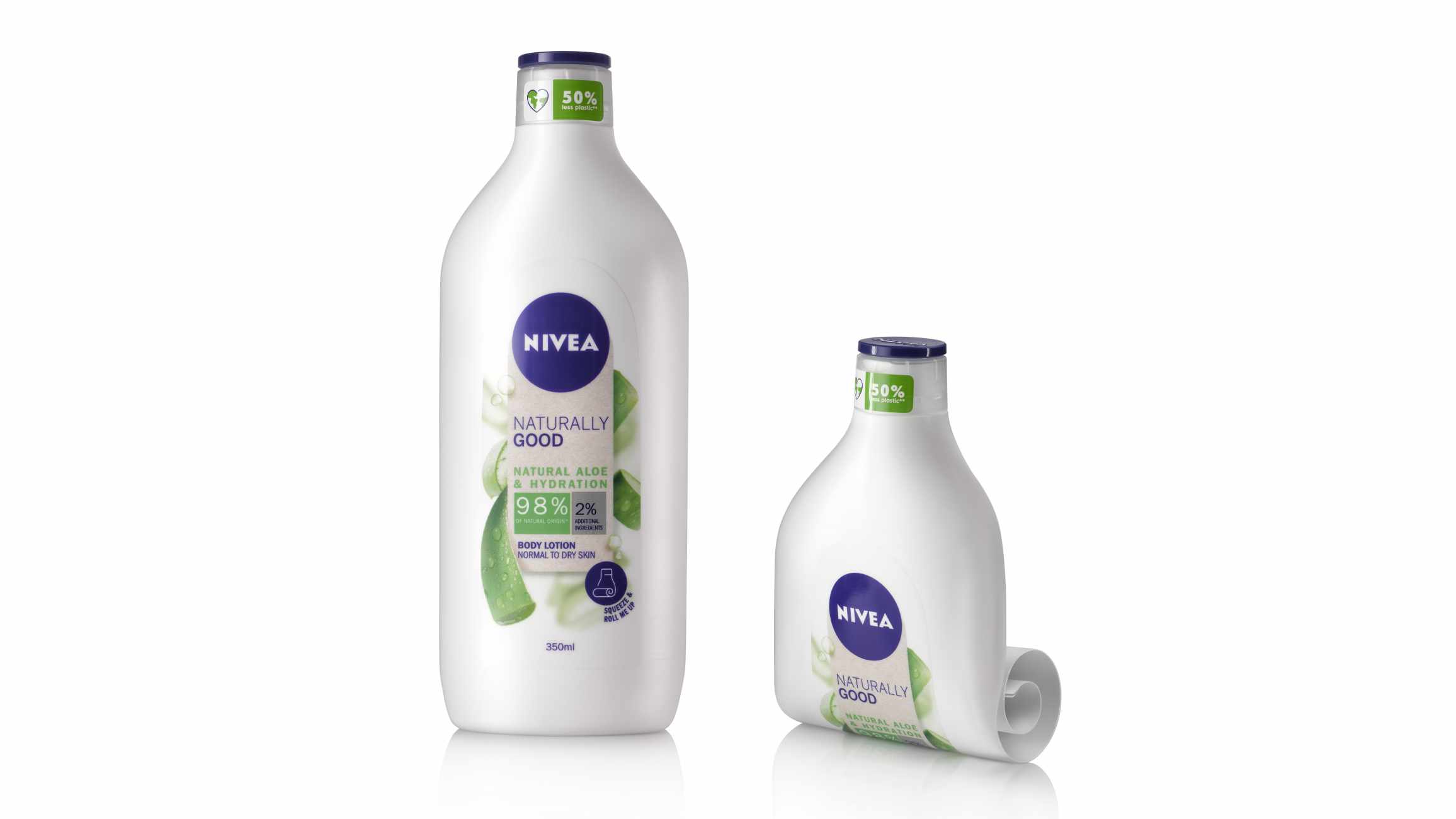 A new HDPE bottle developed in cooperation with Beiersdorf for its NIVEA brand is good for the environment in a number of ways. The innovative bottle with cap developed for a body lotion series requires around half the packaging material usually needed. This therefore reduces the cost of materials as well as the associated carbon emissions. Its thin-walled structure makes it lighter and means it is easier to squeeze, while nevertheless remaining stable and impact-resistant enough for transportation, for example. It also continues to protect the formula from external influences such as UV rays.
Optimised discharging of contents
Another advantage of the revolutionary bottle is demonstrated towards the end of its use by the consumer. When its contents begin to run out, it can be rolled up much like a tube of toothpaste, allowing it to be completely emptied. There is a groove on the base of the bottle along which it can be squeezed together to completely flatten the body of the bottle. It can then be easily rolled up and completely emptied, resulting in less waste.
Design for recycling
In developing this packaging solution, attention was paid in particular to high-quality recycling in accordance with the bottle-to-bottle principle. This involves new bottles being produced using recycled bottle material to create a closed loop. To make this possible, both the bottle body made of HDPE and the cap made of PP (not produced by ALPLA) are fully recyclable and can be easily separated in the relevant sorting steps and then efficiently recycled. The label is made of the same material as the bottle.
• Technology: EBM
• Bottle material: HDPE + white
• Contents: 200 and 350 millilitres
• Optimised discharging of contents thanks to special packaging design (roll-up function)
• Easy to use – simply squeeze
• Reduce: The packaging including cap and label uses approximately 50% less material than other body lotion packaging of the customer. Approximately 40% of the reduction is achieved in the bottle body
• Recycle: Ideally and completely recyclable within existing recycling streams (yellow recyclables bin bags/bins) in accordance with the bottle-to-bottle principle
• Lightweight: Reduced carbon emissions during production and transportation
• Decoration: Label made of the same material as the bottle (HDPE) and is likewise easy to roll up
• The packaging solution is available in stores as NIVEA Naturally Good Body Lotion/NIVEA Natural Balance Body Lotion
'The new NIVEA bottle developed in close cooperation with Beiersdorf is a highly innovative packaging solution with a clever squeeze and roll-up function. We also focused heavily on the topics of sustainability and recycling, and optimised the bottle in terms of material reuse. And we are already developing it further – together, we are now working on using recycled plastics as well as on additional formats.'