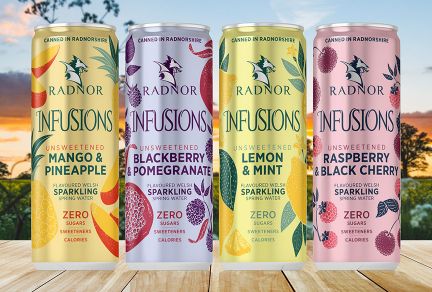 Press Packagingconnections
In fact, the Wales-based company uses AMP's sophisticated matte finish for every can across its entire product line, from its sparkling and still Radnor Hills brand flagbearers to its infused waters and its Heartsease Farm-branded mixers. Their pure still and sparkling spring waters are packaged respectively in stunning contemporary matte navy-blue and matte silver 33cl cans and earned a shortlisting for 'Best in Can' at the 2020 Global Water Drinks Awards.
The matte finish not only brings a unique appeal visually, it also offers haptic enhancement through the special hint of texture that matte provides. The two new Infusions flavours, the latest to the family of matte cans, reinforce Radnor's commitment to this unique aesthetic.
We asked Radnor why they're so happy with matte. "It simply looks and feels fantastic," said Camilla Cadwallader, Product & Innovation Account Manager at Radnor Hills. "Our spring water products are outstanding, so they deserve to stand out, and we pay a lot of attention to the pack design. The matte finish is that final detail that makes our cans look extra attractive on the shelf and then feel great in the hand."
Dirk Schwung, Sales Director at Ardagh Metal Packaging - Europe, said, "Our matte finish is really special – we're delighted that Radnor has picked it again for its new Infusions, and is actually making it a character note across its brands."
The matte finish is available for aluminium and steel cans in all sizes, with Ardagh's local CTS teams available to support filling line trials.