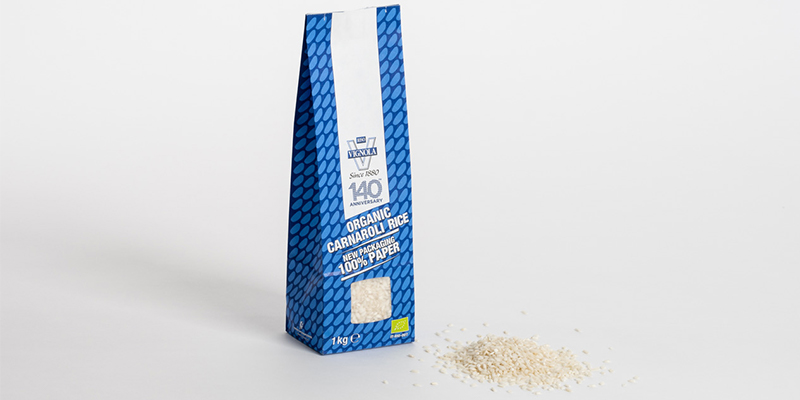 Press Packagingconnections
The new packaging will support the sustainability objectives of the Alessandria rice mill which aim to reduce the use of plastic packaging while maintaining all the technical requirements relating to product conservation and durability. Vignola's commitment in this sense also materialized with the purchase of a new filling and sealing machine suitable for paper bags.
On the Italian food market, Mondi, one of the world leaders in the paper and packaging sector, had already collaborated with Fiorini International, specialized instead in the processing of paper for the production of shopping bags, creating a completely recyclable stand-up bag for pasta. .
The new bag is obtained with 110 gsm Advantage Smooth White Strong paper from the Mondi range, with high resistance, printability and runnability.
"Our fifth generation family business has always been the architect of innovation in Italy - explained Giovanni Vignola (in the photo on the right) , CEO of Riseria Vignola.   In 1971 we were among the first to pack rice in cardboard boxes and in the 1980s we were among the pioneers of vacuum packaging. We have now undertaken this new project ahead of the Italian market, which will involve the 500 g and 1 kilo formats, offering consumers a quality product with 100% recyclable packaging.
Vignola quality is recognized and appreciated all over the world. The company produces 50 million kg of rice / year using the most advanced and automated technologies. The plant is also equipped with a photovoltaic system for the production of clean energy to support the production cycle.