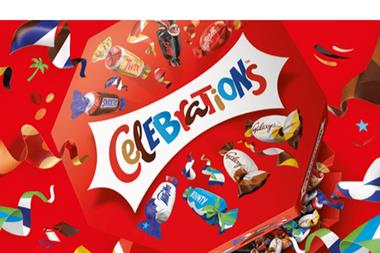 Grania Jain
The multinational manufacturer is giving the iconic confectionary brand a revitalised identity by collaborating with brand expression agency Taxi Studio.
The packaging redesign is being put in place to reinforce Celebrations as a treat choice for the whole year round – not just for Christmas.
Taxi Studio believes the label struggled to retain relevancy in a market that has become increasingly crowded.
Overshadowed by constituent brands, the design team saw the need to bring Celebrations into its own unique identity to drive more equity into the brand.
By modernising the brand and making it more progressive, Celebrations finds "relevance with a younger, tech savvy audience who are increasingly engaging with brands in the digital world," the studio said.
"Celebrations, by definition, is about being bold in marking a festivity or occasion, so this brand expression needs to communicate and evoke this feeling through every touch point," chief executive and founder at Taxi Studio, Ryan Willis said.
He added: "The interaction with the brand and box is an opportunity to remind consumers of the universality of festivities.
"It's not just about Christmas – it's about finding joy and celebration in even more mundane moments of togetherness and creating distinctive memory structures that reinforce these associations."
The news comes as Mars Wrigley is to remove Bounty bars from its Celebrations chocolate tube in a pre-Christmas trial.