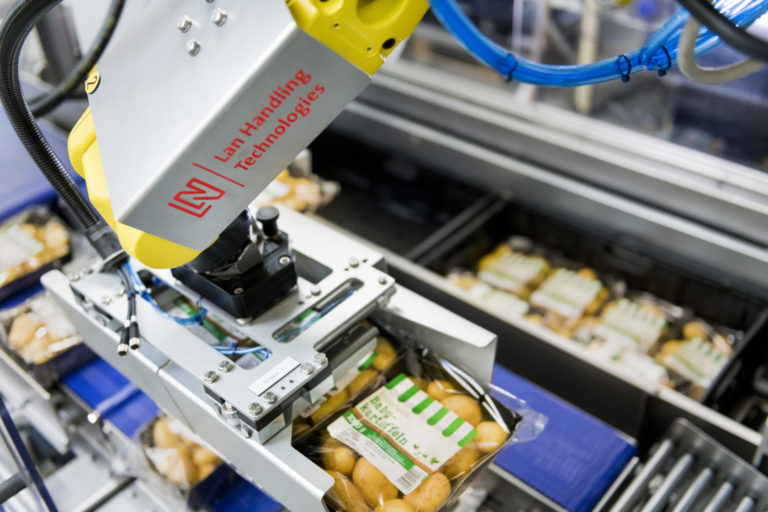 Press Packagingconnections
We spoke with Mark de Boer (Technical Sales Manger) and Dino Boot (Sales Support Engineer), both working in Halfweg and responsible for the projects in the field of End-of-Line automation, and Milou Jansen (Marketing & Communication Manager). We asked them about the developments they see in the market and with which success formula Lan Handling is responding to this.
High variety of packaging
Mark de Boer: "We continue to innovate, because standing still in this sector equals going backwards. One of the developments we see is that our customers in the fruit and vegetable sector and supermarket suppliers increasingly have the desire to be able to handle a high variety of packaging (bags, nets, boxes, MAP trays) and these in or on various product carriers ( crate, box, pallet, dolly). Automation is becoming increasingly important in this. With a payback period of less than 2 years in many cases, where physical labor is replaced by a robotic solution, our End-of-Line automation leads to a more efficient process and a safer working environment. "
Multifunctional machines, small footprint solutions
Lan Handling Technologies provides solutions that are often multi-deployable (for multiple product and crate sizes) and only require a small floor space. An example of this is the combined dolly / crate loader. Milou Jansen: "For example, a potato producer who has a contract with various retailers can provide each of them with a different product carrier without having to make a disproportionately high investment. When he wants to switch from crates to dollies, the system ensures that the robot arm automatically switches gripper. This makes the solution very interesting from a technical and operational point of view, because less movement on the shop floor is required, which increases the efficiency of the production environment.
Robot case packer for Heemskerk fresh & easy
Although Lan Handling Technologies relies on its portfolio with a proven standard, all solutions remain tailor-made. The entire engineering, assembly and development of electronics and software is in-house. Mark de Boer: "We are distinctive in the market in the field of robot integration. A good example in this area is our project at fruit and vegetable processor Heemskerk fresh & easy. They were looking for an automation solution for packaging 3 types of products, namely oval, square and hexagonal salad trays. Lan Handling Technologies developed a set of scale-specific grippers and a user-friendly exchange system for this packing process. Placing the salads is a very precise process, because these cardboard boxes ('display boxes') are smaller than a standard size box (600 x 400 mm) and also have overhanging top edges. We deliberately opt for a 6-axis robot arm instead of a delta / spider robot, because the former can perform more complex movements. And because we pre-form products in a smart way, we always achieve the desired speed. With this automation, Heemskerk can run 24/7, process more volume on a smaller footprint and better predict costs. "
Switch between full and half crates at the touch of a button
In the fruit and vegetable market, the folding crate is very popular because of the considerable savings in transport and storage space. Dino Boot: "In addition, a fully automatic crate erector can generate enormous savings in labor costs and increase efficiency. Various European customers therefore consciously choose us. A crate erector from Lan Handling Technologies can process no less than 1,200 whole folding crates (600 x 400 mm) per hour. With half folding crates (300 x 200 mm) the speed is almost twice as fast. " The crate erector can operate standalone or be integrated into a complete production line. In the latter case, Lan Handling Technologies automates, for example, the pallet handling towards the crate erector and then the transport of the empty, unfolded crates to case packers.
Remote AR Tool
Lan Handling Technologies recently expanded its services with a remote AR Tool. This has been widely used since the introduction of Covid-19. Due to travel restrictions, Lan Handling Technologies engineers also performed the initial installations and commissioning remotely. Via a simple link with a smartphone, the customer can, by using voice and screen pointers, quickly switch with a mechanic or engineer from Lan Handling Technologies. In the event of a malfunction, this reduces machine downtime and thus additional costs for the customer to a minimum.