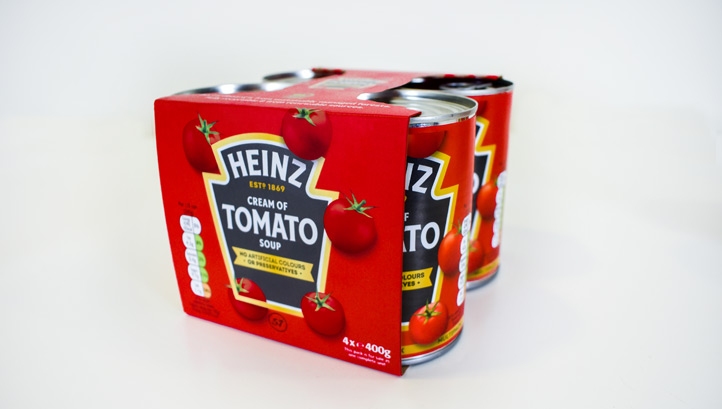 Grania Jain
Heinz is switching to a paperboard sleeve for multipack canned products. The new "eco-sleeve" is fully recyclable and is approved by the Programme for the Endorsement of Forest Certification (PEFC). The new sleeve also uses 50% less material than a fully enclosed box and 10% less than traditional paperboard sleeves.
Heinz estimates that a rollout across all canned products and major UK retailers will remove 550 tonnes of shrink-wrap packaging. The first products – a selection of Heinz Soups – are available in the new packaging, with a UK-wide launch to commence in Autumn 2021.
Kraft Heinz's Northern Europe President Jojo de Noronha said: "It is clear that convenience is important to shoppers – research has found that 59% of UK shoppers say that if a package is easy to carry or transport, it is impactful to their overall satisfaction with the product. And sustainable packaging has a significant impact, too, with 71% of UK shoppers agreeing that they are more satisfied with a product if it is easily recycled or composted.
"Grounded in shopper insight, we feel this new recyclable and easy-to-carry paperboard sleeve ticks both of those boxes and is the perfect eco-friendly solution for our multipacks.  Our packaging innovation team continues to work hard to develop further sustainable solutions across our business as we make a £25m investment over three years to implement the infrastructure needed to ensure this roll-out is a success, which will be a win for the environment as well as shoppers across the UK."
Heinz is aiming to reduce carbon emissions from packaging manufacturing transport. The new packaging sleeves have an 18.7% lower carbon footprint compared to shrink-wrap equivalents. The solution is part of a three-year £25m investment into low-carbon and efficiency improvements at the Kitt Green factory near Wigan.