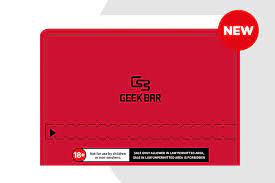 The new packaging will distinguish the legitimacy of its products by emphasising the positioning of the security code, allowing both retailers and consumers to check the authenticity of the product.
The makeover also includes a new top-integrated seal, which will allow consumers to open the Geek Bar using a tear brace. Geek Bar has also replaced the certification and environmental protection information to emphasise the recyclable nature of the product.
Allen Yang, chief executive at Geek Bar, said: "As a leading brand of disposable vapes in the UK, it is crucially important to us that we are putting all the measures in place to ensure non-compliant and counterfeit vapes do not bring harm to our customers.
"We will not accept products that do not meet UK regulations entering the market and we hope that our new packaging will make it easier for people to check the veracity of the products and alert us to any unregulated sales.
"Our message to distributors and retailers who allow this to happen is that it has to stop now.
"Through our compliance partner, we are working extremely closely with the UK Vaping Industry Association and regulators to assist them in removing non-compliant products from the UK market."
Consumers and retailers can check the authenticity of products by verifying the security code at http://www.geekbar.com/security-code.html. Retailers and distributors can also report suspected counterfeit and non-compliant products at legal@geekbar.com and the company is incentivising retailers to report counterfeits or products that do not comply with UK regulations.