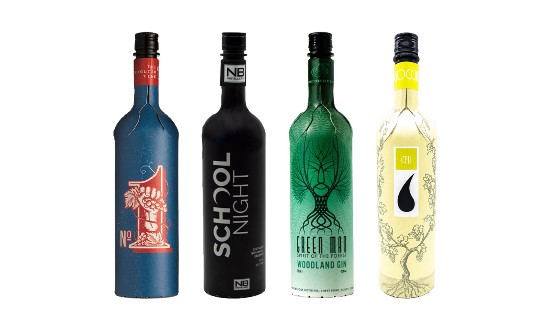 Vishu Dixit
Silent Pool Distillers became the first drinks company to sell a spirit in Frugalpac's Frugal Bottle for its Green Man Woodland Gin, launched on Earth Day (April 22) and Greek Olive Oil producer Aeons has just unveiled the first oil in a paper bottle, AEONS Exclusive Paper Bottle. They will be joined by Scotland's NB Distillery who are launching the first low carbon AND low alcohol botanical spirit in a paper bottle called School Night.
The vineyard behind the first wine in a paper bottle, Cantina Goccia, said it's been such a success they'll now produce at least 50% of its wine in Frugal Bottles and have unveiled a white wine in a paper bottle, CELI.
Frugalpac has enquiries to make 70 million of its Frugal Bottles and is calling on paper, packaging and co-packer companies to meet the increasing global demand for paper bottles by buying their own Frugal Bottle Assembly Machines. Polling by Survation found that 63% of UK wine drinkers would buy wine in a paper bottle. Frugalpac is currently making paper sake bottles for Japan, olive oil bottles for Greece and has four more wine brands in the US, Spain and England looking to launch in the next few months.
The Frugal Bottle, which is five times lighter than a glass bottle with a carbon footprint six times lower than glass, is the world's first commercially available wine and spirits bottle made from 96% recycled paper.
Since launching the first wine in a paper bottle last year, from Italian wine producers Cantina Goccia, demand has soared around the globe. Cantina Goccia saw its Frugal Bottle 3Q wine sell-out twice, with one wine chain, Woodwinters in Scotland, selling its whole stock in just one day.
Cantina Goccia is so convinced paper bottles are the future, it's released their white wine CELI, a blend of Grechetto, Vermentino and Chardonnay in a Frugal Bottle and are set to release a rose in one too.
Frugalpac has strong intent from several international companies to invest in the machine platforms in the next few months.
Frugalpac was recently praised by the UK Government's Department for International Trade's GREAT Britain campaign as one of the UK organisations "doing incredible things to help build a global sustainable future" in the run up to this year's COP26 climate change conference in Glasgow.
And respected wine writer Jancis Robinson recently pointed out in her FT column about wine bottles: "for the sake of the planet we need to look more favourably on the alternatives for wine that is drunk within days or weeks of purchase."
Frugal Bottles are being produced at a new manufacturing facility in Wickham Market near Ipswich owned by Group Roland.
Frugalpac has also partnered with Silent Pool Distillers to meet orders to fill Frugal Bottles for a growing list of international wine and spirits orders. A dedicated filling line has been installed at their distillery in Albury.
Frugalpac, which is scaling up production to meet worldwide interest for the Frugal Bottle, is calling on bottlers, packaging companies, printing firms and recycled paper suppliers to help them meet this demand by investing in their own Frugal Bottle machine platforms.