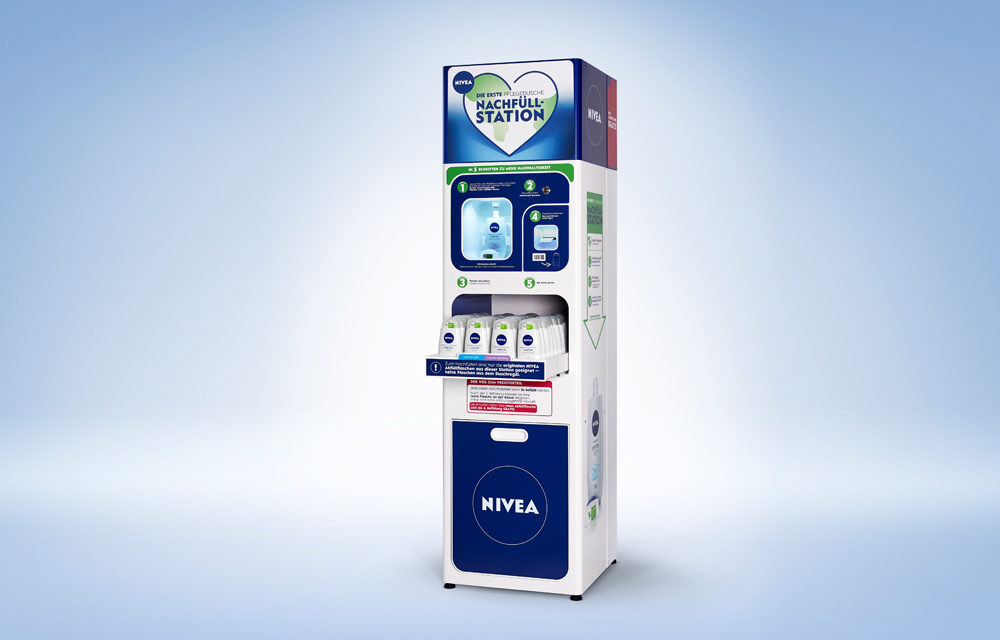 Press Packagingconnections
INCREASING AWARENESS OF REUSE AND RECYCLING
The refill station pilot project is scheduled to last for six to eight months, with the aim of gathering experience together with the target group in order to find out which solutions make sense and are feasible for fostering a closed-loop economy. The Hamburg-based company plans to take further steps depending on how well the public responds to the new service.
In May 2020, the manufacturer of the traditional blue "creme" tin announced its commitment to the "Global Plastic Pledge". Three goals are to be achieved across all brands.
By 2025, all packaging is to be refillable, reusable or recyclable.
The share of recycled materials in plastic packaging is to be increased to 30%.
At the same time, the quantity of new, petroleum-based plastic in use is to be reduced by 50%.
By the end of 2020, Beiersdorf will also have shifted more than 90% of its PET bottles in Europe over to recycled plastic (rPET). This initiative alone will reduce the amount of new plastic by more than 1200 tonnes annually.
REFILL STATIONS FOR DETERGENTS AND WASHING-UP LIQUIDS
With its new brand Love Nature, Düsseldorf-based consumer goods manufacturer Henkel is specifically targeting customers who want to shop more conscientiously and who are prepared to give sustainable packaging alternatives a try.
Since October 2020, customers in 15 selected dm, Rossmann and Müller drugstores have been able to refill Love Nature detergent and washing-up liquid bottles themselves at specially designed refill stations.
To ensure that everything works perfectly from a technical standpoint, Henkel offers special refill bottles for each product group. There are two detergent and two washing-up liquid variants to choose from, each of which can be dispensed into the bottle provided with the label "My detergent" or "My washing-up liquid". The traditional shelf goods can currently not be refilled.
The bodies of the refillable bottles are made of 100% recycled plastic and can in turn be fully recycled at the end of their service life. The test phase with the refill stations is currently scheduled for one year.