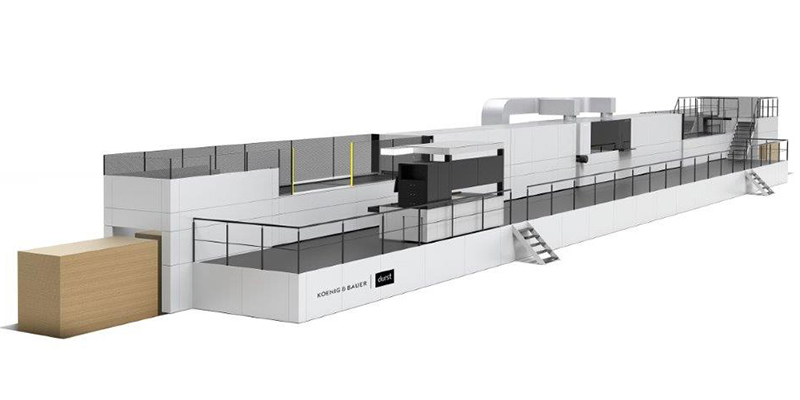 Press Packagingconnections
From the joint venture between Koenig & Bauer and Durst, operational since 1 August 2019 in Würzburg, Bavaria , there are important upgrades and innovations dedicated to Delta SPC 130 Flexline Automatic , the printing system for the paper converting sector that ensures industrial performance for large runs .
Among the most significant innovations, the new water-based inks in orange and purple colors that expand the gamut ensuring full compliance with food safety standards for primary packaging . New features also in the field of automation that further increase the productivity of Delta SPC 130 Flexline Automatic. The upgrade of the new features can also be performed on systems already in operation, thus integrating into the workflow of already active customers. Another improvement included, the new primerdeveloped by the R&D department of Koenig & Bauer Du which ensures better image quality, while ensuring a reduction in production costs and the introduction of new special effects for corrugated cardboard prints.  
Delta SPC 130 Flexline Automatic combines careful engineering of mechanical design with the ability to integrate selected components to ensure lasting quality, high performance and reliability. This agile system can print with food safe water-based inks from the small format ( 500 x 600 mm) up to the large format (1,300 x 2,800 mm) with a maximum thickness of 12 mm. Delta SPC 130 Flexline Automatic, equipped with a non-stop feeding system, allows single pass four-color printing and includes a drying system and an automatic unloading system.
" The innovations we developed for the Delta SPC 130 Flexline Automatic were designed to anticipate market needs ," commented Robert Stabler, Managing Director of Koenig & Bauer Durst  (pictured right) . " The safety of food packaging is now a hot topic and our new water-based inks meet this need for primary packaging. A new reliable and cost-effective production method that offers brands the opportunity to focus on mass customization without compromising on quality. ".
The Koenig & Bauer Durst range also includes the new CorruJET digital post printer for direct printing on corrugated cardboard up to 1.7 m wide with speeds up to 135m / min and the VariJET 106 digital sheet printer dedicated to the folding carton market.