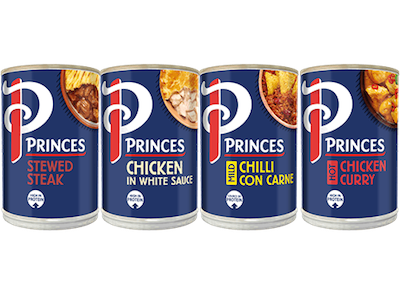 Grania Jain
More buyers purchased canned foods in past four months compared to same period in 2020, during the height of lockdown
Growth in canned products has been outpacing rest of grocery market since February 2022
Sales volumes of canned soup and tomatoes at highest levels since 2018
Almost a third of British consumers intend to buy more canned goods over the next year
UK sales volumes of goods including canned soup (up by 19.7%) and tomatoes (up by 8%) are at their highest comparative levels since 2018, while a recent survey conducted by international food and drink group, Princes, in partnership with innovation consultancy, KICR, revealed that almost a third (31%) of British consumers intend to buy more canned products over the next year.
As food inflation continues to soar, the survey highlighted that those consumers likely to buy more canned goods will do so due to lower costs and longer shelf lives, citing the ability to keep products in the cupboard (64%), value for money (53%) and minimising food waste (46%) as key purchase drivers.
At the same time, 20% of UK consumers said they expect to buy less chilled foods over the coming year. UK supermarket chain, Waitrose, recently called on shoppers to plan at least one meal a week using canned food to reduce food waste and support household budgets, as it announced plans to remove 'best before' dates on fresh produce. Asda and Sainsburys have since followed suit.
To save money during the cost-of-living crisis, respondents said they are most likely to buy more dry pasta (46%), rice (41%), canned beans (40%) and canned tomatoes (35%). Over a third (34%) expect to add more vegetables or pulses to meals to make them go further and 33% plan to do more batch cooking, while 41% also highlighted that canned goods are great for making meals from scratch. Amid rising energy prices, British consumers are also looking to reduce costs by 'heating and eating,' with 43% highlighting that they believe canned or similarly packaged grocery products cost the least to cook.
Ruth Simpson, Group Strategy & Planning Director at Princes, said: "While canned and other ambient food is a cupboard staple across the country, it is still something of a best kept secret to many people. The affordability of canned food doesn't mean inferior ingredients – quite the opposite. The canning process seals quality ingredients, quickly transported from the source, in optimum conditions to maintain freshness and taste. This achieves a long shelf life without the use of any preservatives, giving canned products great food waste credentials and of course no energy is needed to store them. Canned also lends itself to batch cooking, which can help families to create delicious meals that go further, while keeping costs down."
Covid-19 prompted a similar reappraisal of the canned category, with a renewed focus on tasty, affordable foods which also boast strong food waste and recyclability credentials. In fact, an estimated 8 million shoppers stocked up on canned goods for the first time throughout the pandemic.
Princes Group, which produces canned food in the UK under the Princes brand and a portfolio of other household names, including Napolina, Branston, Batchelors and Crosse & Blackwell, has been working to highlight the potential of canned ingredients through initiatives such as Love Canned Food, helping families to make the most of their store cupboard essentials to create high quality meals, while cutting costs and waste. Princes has also recently published new recipe videos, which connect shoppers with tips on how to reduce food waste.
Ruth Simpson added: "We know we can do more to help families during this unprecedented cost-of-living crisis. Our websites have a huge range of recipes to help create low-cost meals using canned food and we will be building on this with new recipe videos to inspire home cooking using leftovers with canned food to create nutritious, affordable meals that are better for the planet as well."
Princes has seen an increase in retail purchases across a number of categories, with standout products including Princes tuna chunks (up by 29% year-on-year) and drained tuna steak (up by 35% in the past quarter), the brand's stewed steak in gravy ready meal (up by 56% year-on-year) and Princes corned beef (up by 6% in the past quarter).