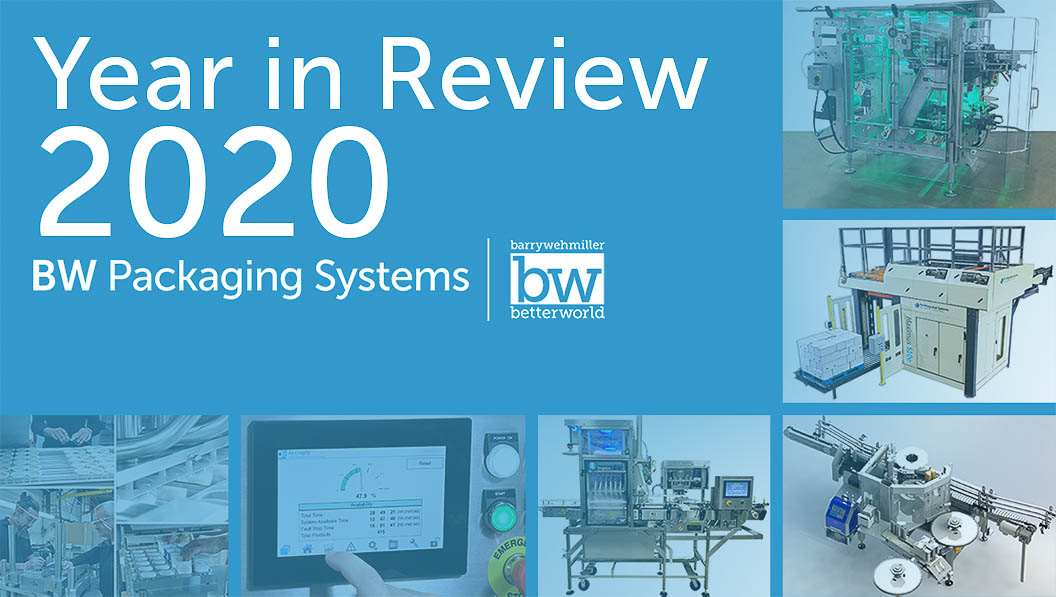 Press Packagingconnections
On the lighter side, we figured out how to mute and unmute quickly as our families and pets became unanticipated participants in our meetings.  On the more serious side, came the realization that our top priority was to keep our teams and customers safe and to invent and pivot quickly to a new "normal". 
Though we are still in the midst of this very challenging pandemic, it is important to pause and recognize what we've achieved so far in the face of adversity. Our teams at BW Packaging Systems came together and rose to every challenge that the world threw at them and were able to deliver remarkable results.
Finding the balance between safety and efficiency was tricky in the beginning. But as most of our team members were forced to work remotely, we found ways to leverage our global teams and IoT technologies to meet our customers' needs. Time and again, our team members advanced new product developments, performed field service remotely, and conducted virtual FATs (sometimes involving as many as 20 team members and 20 different cameras).
Packaging Innovation
Despite the logistical challenges, we did not miss a beat on our innovation journey. Somehow our team members managed to continue moving innovation projects down the path of development. In fiscal 2020, each of our divisions introduced groundbreaking packaging innovations.
Pneumatic Scale Angelus (PSA) expanded its single-use centrifuge line, with the introduction of the U2k® and UFMini® machines, deepening their ability to serve the full breadth of applications in the critical vaccine, testing, and cell therapies markets. PSA also introduced the CB50C Counter-Pressure Integrated Canning Line, meeting a growing craft market demand for hard seltzers, sparkling wines, and higher-carbonation beers.
BW Flexible Systems introduced the Hayssen ISB, a transformative vertical form fill seal (VFFS) bagger with intelligent systems capabilities. It brings unparalleled hygienic design, easy changeovers, flexibility and intuitive operation to the cheese, fresh produce and IQF markets.
BW Integrated Systems launched Maximus, an all-electric mid-speed case palletizer that is energy efficient and includes new-to-the-world functionality in the palletizing space. It is a highly flexible palletizer with a smaller footprint for compact spaces.
Accraply introduced the SmartLink HMI, a new interface that makes pressure-sensitive labeling operations more intuitive, efficient, and easily accessible. This next-gen HMI, which provides access to remote support with experts, comes standard on the Trine Modular Labeling Station, which debuted at PACK EXPO Connects in November, as well as the Sirius Advanced MK6 Labeling Machine. 
Synerlink, having mastered the art of PET cutting with rigid FFS applications, developed the SNAPCUT PET Multi-pack Pre-Cutting System. This innovation provides a more sustainable alternative to PS multipacks for processors of yogurt, baby food, fruit, desserts, and cheeses, among others.
Continued Support of Sustainability Initiatives
In 2020, we remained steadfast in our support of corporate sustainability initiatives. In addition to the SNAPCUT, Maximus and the SmartLink HMI innovations, our team members continued to support customers with their initiatives by providing energy efficient packaging solutions that reduce waste and enable the use of ecofriendly materials. We've made strides across several product lines in this regard.
One example would be the changes that we are seeing among our VFFS machine customers. Several food and industrial companies have made commitments to find alternatives to plastic packaging. In order to support these customers, our BW Flexible Systems teams are adjusting their machines to facilitate the use of paper materials. With updates to the forming tube assemblies (FTA), "jaws," punching tools, and new technology partnerships, we can offer updates on both our intermittent motion and continuous motion VFFS machines to make them compatible for a wide variety of materials.
Separately, the PSA and BW Integrated Systems teams have worked together to design and manufacture industry-leading canning lines for beverage customers that are prioritizing more recyclable materials, i.e., aluminum cans.
Looking Ahead
With more innovations and sustainability initiatives on the horizon, the future looks bright for BW Packaging Systems and our customers. As we enter 2021, we will continue to measure success by the ways we touch the lives of our customers, partners, and employees. We look forward working to working with you in the future. Thank you. 
About Carol O'Neill – Group President, Packaging
Carol leads efforts to enhance alignment and capabilities of the five divisions within the Barry-Wehmiller Packaging Platform including Accraply, BW Flexible Systems, BW Integrated Systems, Pneumatic Scale Angelus and Synerlink. Drawn to Barry-Wehmiller's culture and values, Carol joined the organization in 2014 to serve as Vice President of Strategy, Technology and Key Initiatives. She accepted the role of Group President, Packaging in 2016.