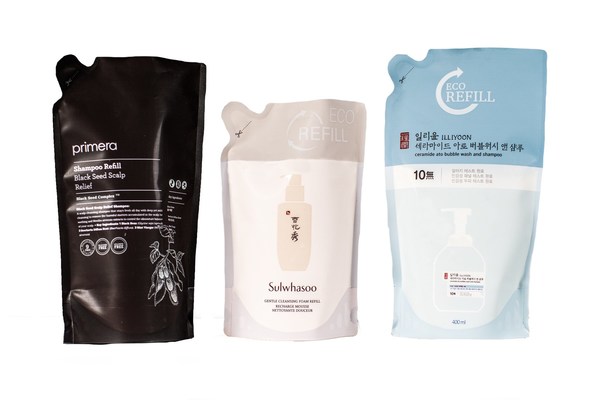 Grania Jain
Dow (NYSE: DOW) announced today that INNATE™ TF Polyethylene Resins for Tenter Frame Biaxial Orientation has been chosen by Amorepacific, a global beauty company from South Korea, in its new recyclable packaging. The commercialization of tenter frame biaxially oriented polyethylene (TF-BOPE) films is a breakthrough moment in the future of sustainable packaging, providing high performance, excellent shelf appeal, reduced plastic weight and recyclability, enabling leading brand owners like Amorepacific to adopt fully recyclable packaging. This is in line with Dow's new sustainability target of having all of its products sold into packaging applications to be reusable or recyclable by 2035.
In a tripartite collaboration between Dow, Amorepacific and Flair Flexible Packaging, luxury cosmetic brand Sulwhasoo, clean beauty brand primera, as well as derma cosmetic brand illiyoon, will now use all-polyethylene (PE) recyclable stand up pouch for its liquid products. Dow's INNATE™ TF resins were selected due to its valuable benefits that include excellent toughness, outstanding appearance, superior pin-hole resistance, manufacturing efficiency and complete recyclability in existing recycle streams; while Flair Flexible Packaging was responsible for designing and creating the stand-up pouch.
"We are proud to partner with Amorepacific, a leading brand owner in the cosmetics industry, to redefine the possibilities for packaging. Collaboration is key in advancing a circular plastics economy, thus it is important for players across the value chain to act on eliminating plastic waste and optimize our sustainability efforts together," said Bambang Candra, Asia Pacific commercial vice president of Dow Packaging and Specialty Plastics. "Our role as one of the leading materials science solutions providers is to support local regulators and brand owners in delivering their sustainability commitments. South Korea has several policies to promote a zero-waste society, such as the Resource Circulation Performance Management Program which encourages manufacturers to improve products recyclability, and these all-PE packaging can address the country's need for plastic packaging to be fully recyclable and drive a positive change in the circular economy."
"Brand owners like us have a vital role to play in offering recyclable packages and we need to be cognizant and present when it comes to deciding the materials for our packaging. We are stepping up in meeting the needs of our consumers who are increasingly eco-conscious with innovative and sustainable packaging materials," said Yu Minho, Packaging manager at Amorepacific. "Our target of reducing 700 tons of plastic consumption by 2022 is made possible through strategic partnerships, such as embracing Dow's best-in-class solutions. We chose to introduce INNATE™ TF-BOPE resins in our brands – Sulwhasoo, primera, and illiyoon because of its unique, fully-recyclable feature that also demonstrated strong properties and great appearance."
"We work closely with our customers to not only provide them with packaging solutions, but to help develop and communicate their product's identity. This partnership with Dow and Amorepacific reiterates the brands' commitment to sustainability, and we are proud that Flair's engineering and development capabilities support their vision of a waste-free environment in South Korea," commented Hanil Lee, senior vice president of Technology at Flair Flexible Packaging Corp. "The stand-up pouches are designed to be functional, appealing and entirely recyclable. With Dow's INNATE™ TF resins, we were able to develop a packaging solution that support a circular economy where recyclers receive useful materials and consumers are empowered to recycle more."
Dow recently announced the innovative and revolutionary INNATE™ TF-BOPE and its applications with a variety of value chain members. The resins offer distinctive physical properties which enable material substitution, film layer elimination and/or downgauging to reduce overall packaging materials. It is the prominent choice for brand owners as it can help deliver lighter, stronger and more durable packaging films for numerous applications. INNATE™ TF boasts a variety of benefits that include higher mechanical properties, material rigidity, better optical and printing performance, hence addressing the many needs of the packaging value chain.
INNATE™ TF has been recognized as a 'design for recyclability' solution, enabling more plastic packaging to be recycled and not end up in the environment or lost to landfills. With most companies focusing their sustainability initiative on increasing the recyclability of their packaging, Dow's TF-BOPE film allows brands to design for recyclability right from the start, choosing materials that work together to create packaging that satisfies needs throughout its lifecycle.
INNATE™ TF-BOPE resins provide converters, brand owners and retailers with an innovative packaging solution that can achieve desired properties while being completely recyclable. This is possible because of the resins' unique molecular architecture that demonstrates outstanding physical properties as compared to traditional polyethylene products.