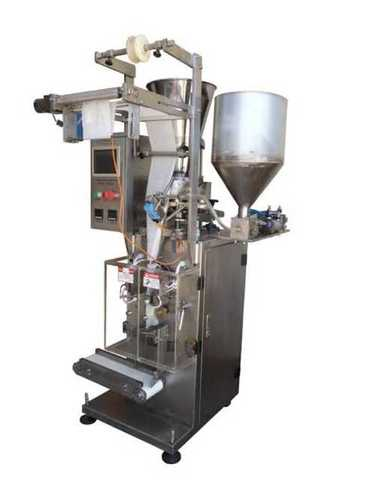 Form-fill-seal (FFS) is a packaging technique commonly used in the manufacturing industry to automate the process of creating and filling packages. It is a highly efficient method that integrates the forming of a package, filling it with a product, and sealing it, all in a continuous and automated production line.
The form-fill-seal process typically involves the following steps:
1. Forming: The packaging material, which is usually a roll of flexible film or a pre-made flat bag, is fed into the machine. The machine forms the packaging material into the desired shape, such as a pouch or a bag, by folding, heat sealing, or both.
2. Filling: Once the packaging material is formed, the product is dispensed into the formed package. This can be done through various methods, such as gravity filling, auger filling, or liquid pumps, depending on the nature of the product being packaged.
3. Sealing: After the product is filled, the machine seals the package. This is typically done by applying heat to the edges of the package, melting the film and creating a secure seal.
Form-fill-seal technology offers several advantages in packaging:
1. Efficiency: FFS machines are capable of high-speed production, offering significant productivity gains compared to manual or semi-automated packaging methods.
2. Cost-effective: By integrating multiple packaging processes into a single machine, FFS reduces labor costs and material waste.
3. Product protection: The automated process of FFS ensures consistent and reliable packaging, minimizing the risk of product damage or spoilage during handling, storage, and transportation.
4. Versatility: FFS machines can be adapted to accommodate various packaging sizes and formats, making them suitable for a wide range of products, including powders, granules, liquids, and solid items.
Form-fill-seal technology has undergone significant improvements over the years, driven by advancements in engineering, automation, and materials. Some of the notable improvements include:
1. Increased Speed and Efficiency
2. Enhanced Flexibility: Modern FFS machines can handle different types of packaging materials, including flexible films, laminates, and specialized barrier films.
3. Advanced Control Systems: Precise control over parameters such as temperature, pressure, and speed, ensure consistent and accurate packaging results.
Advanced sensors and vision systems can detect defects, verify package integrity, and ensure proper filling levels.
4. Improved Packaging Designs
5. Enhanced Safety and Hygiene
6. Integration with Other Technologies: FFS machines can be connected to upstream and downstream equipment, such as product feeders, labeling machines, and cartoners, to create a fully automated packaging line.
7. Sustainability Considerations: FFS technology has adapted to support eco-friendly practices, such as the use of recyclable materials, reduced packaging waste, and energy-efficient operations.
Form-fill-seal technology is widely used in industries such as food and beverage, pharmaceuticals, cosmetics, and household products, where it enables efficient and hygienic packaging processes while maintaining product quality and integrity.
This automated computer-operated technology itself is subject to constant development.
Blow-fill-seal (BFS) technology, a progression of FFS, is a form of advanced aseptic manufacturing that is available for filling liquid pharmaceuticals, including biologics. In BFS technology, too, the container is formed, filled, and sealed in one continuous, automated system.