Business Name:
KISICO Kirchner, Simon & Co. GmbH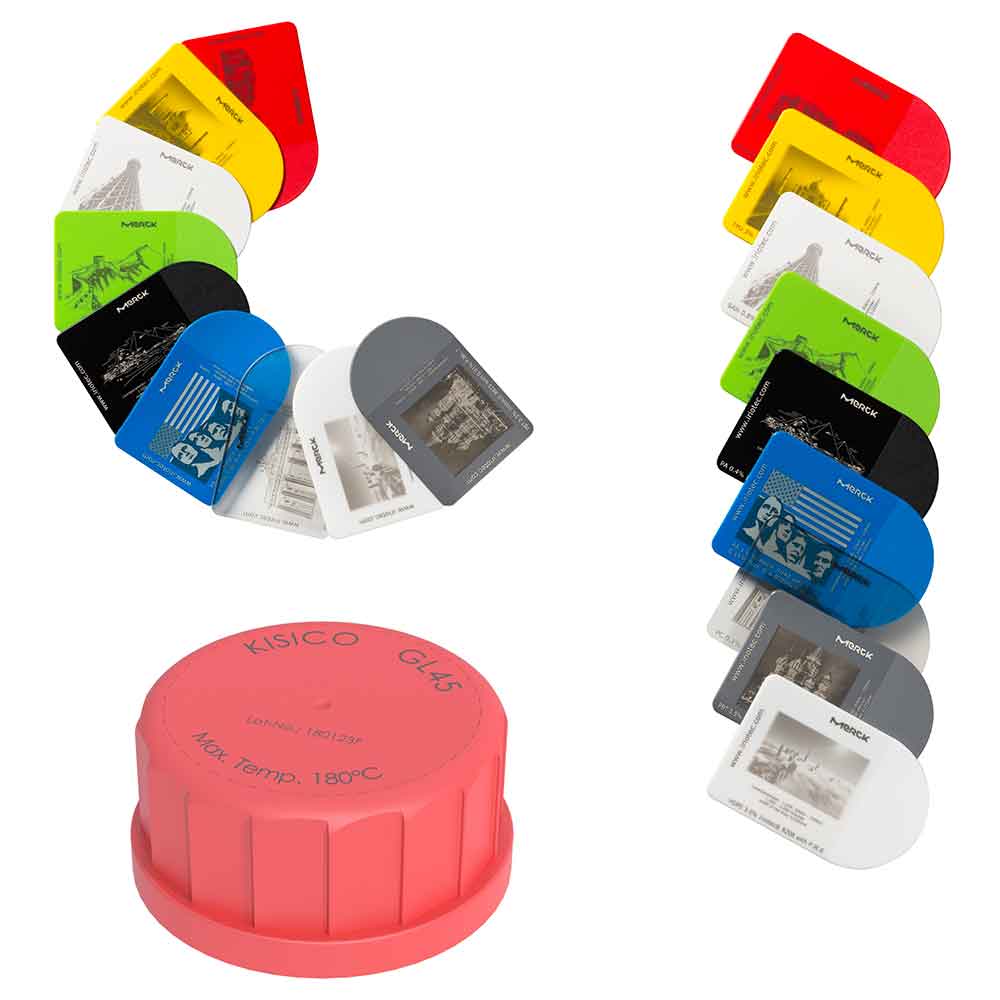 Serialization, batch identification, anti-counterfeit protection
Iriotec® laser pigments from the latest Merck generation
Live laser marking at KISICO stand 7-732 at the 2018 Fachpack trade fair
KISICO, a packaging specialist in the German state of Hesse, will again have an exhibit at this year's Fachpack trade fair in Nuremberg from September 25 to 27, 2018. Visitors to the trade fair stand will be treated to a special highlight this year.
Together with Merck, a leading science and technology company, KISICO will present a cap featuring Merck Iriotec® 8000 series laser pigments at its stand. The pigments yield optimum results for laser marking.
The principle of laser marking plastics is an established labeling process that has been used for years, for example, in the beverage industry.
KISICO would now like to share these benefits and expertise with its customers in the diagnostic, analytics, and laboratory equipment sectors. KISICO can supply the caps with any requested laser marking. For laboratory caps, important information such as manufacturer, brand and product names, or batch number can be lasered into the cap. Contents are easier to identify and mix-ups are avoided as a result. However, other information can also be lasered, such as thread size, temperature resistance, or hazard symbols. The entire surface can be used for the labeling; customers are not limited to the top plate. And switching to laser marking eliminates costs for changes to the injection moulding tool, embossed stamp, or printing plates.
This vital labeling of caps is offered by KISICO as part of an expanded service package. Alternatively, customers with the appropriate equipment can perform the laser marking directly in-house, for example, on the filling line. This means a substantial increase in flexibility when it comes to labeling. Each cap can be quickly and permanently marked with the batch number or a data matrix code, which translates into significant advantages in traceability. With laser marking, very fine markings are possible even on small surfaces, which means that a great deal of information can be included.
All caps from the KISICO product range can be provided with this high-performance pigment from Merck.
Since lasers write using only light, no additional materials are required during the marking process besides electricity and suction. The caps also do not need to be pretreated. Products such as inks and solvents are superfluous, smudging does not occur, and drying is unnecessary. Downtimes for cleaning and setup are eliminated. Experiences from the food and cosmetics industries have shown that maintenance costs are reduced to a minimum as a result.
Visitors to the KISICO stand can experience laser marking live. Merck experts will individually mark caps, for example, with the visitors' names.
Upload Press Release file: