Business Name:
F&H Public Relations GmbH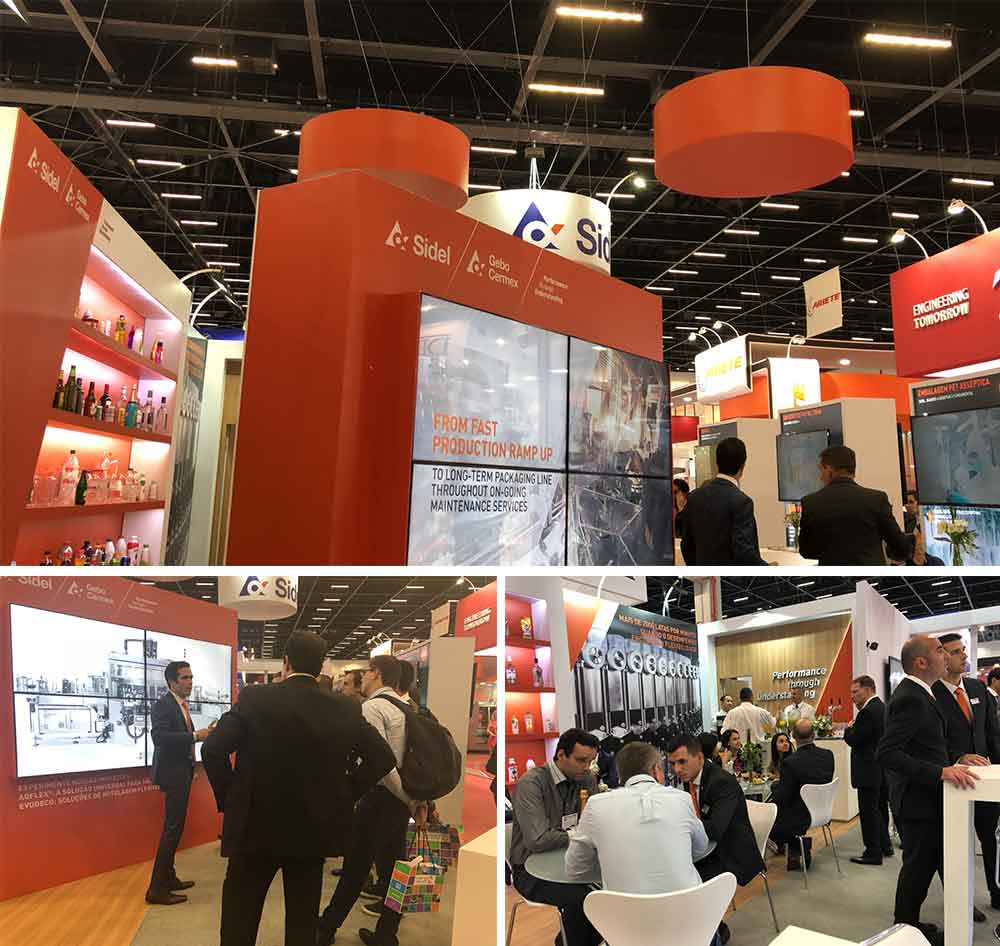 At Fispal Tecnologia 2018, Sidel and Gebo Cermex promoted their complete line solutions capabilities and showcased their latest advanced performance systems for the beverages, food, home and personal care industries in the Latin American market.
From June 26 to 29, Fispal 2018 returned to São Paulo Expo in a favourable setting as the Brazilian soft drinks industry is showing signs of recovery despite the overall current economic situation in the country. In its 34 th edition, Fispal reassured its position as one of the biggest and most complete trade events for the food and beverage industry in Latin America, successfully creating an exclusive environment for over 440 exhibitors to showcase their expertise and share information on the latest packaging innovations, trends, and solutions.
With the World Cup hosted in Brazil in 2014, soft drinks sales saw a peak in volume; however since then they have been plummeting. The sales have only recently recovered from this. Brazil experienced some difficulties in 2017 on both economic and political fronts. With these crises looming, packaged food posted a reasonable performance; however, during this period, the snack and dairy product categories were affected the most.
A shift in the consumption habits of Brazilians and their ability to accommodate preferred products into their budgets reflected on the market as sales showed signs of recovery in 2017. Consumers started trading down and reduced their purchase frequency while pursuing economic pack sizes, looking for bigger packs at attractive prices per unit. This preferred consumption at home contributed to faster recovery of retail volume sales.
Ensuring line efficiency while lowering the Total Cost of Ownership
At Fispal 2018, Sidel highlighted its 165+ years of experience. While promoting its complete line solutions expertise, the company focused on the latest introductions like the new Sidel EvoDECO labelling solutions, available as a modular multi-technology or as dedicated- technology equipment, which are designed for total flexibility and optimised for unmatched performance. This allows producers to choose systems based on their specific labelling needs and output levels, without compromising on flexibility, efficiency or sustainability.
Sidel Super Combi was also showcased at this year's Fispal. By integrating five process steps into one single system – preforms feeder, blowing, labelling, filling/capping and caps feeder – and encompassing equipment intelligence, it is the ideal solution for maximising water and carbonated soft drinks (CSD) production and increasing line efficiency, while reducing Total Cost of Ownership (TCO). As such, it proved particularly interesting for Brazilian manufacturers visiting Sidel Group's stand, as soft drinks volume sales are expected to show positive growth rates from 2018 onwards. This is largely supported by the recovery of both the Brazilian economy and the consumer confidence at large. 2
During the show, Sidel promoted its portfolio for sensitive products, which includes the Aseptic Combi Predis™, the unique blow-fill-seal solution with dry preform sterilisation validated by the Food and Drug Administration (FDA). This achievement makes it the world's first aseptic PET filler with dry preform sterilisation approved for low acid manufacturing and commercial distribution in the U.S. market.
Jose Priante, Vice President of Sales Latin America at Sidel, explained, "As it is vitally important for producers in Latin America to stand out from the crowd in today's competitive market, we placed a strong focus on our latest achievements like the Super Combi and the EvoDECO labelling solutions. Top priorities today are faster product and format changeovers, simple operations and optimised processes that use the same equipment for different products, ensuring consistent uptime together with a more sustainable production. Our equipment can meet all these market demands."
Maximising flexibility and operators' safety, with no compromises on compact footprint
Upload Press Release file: