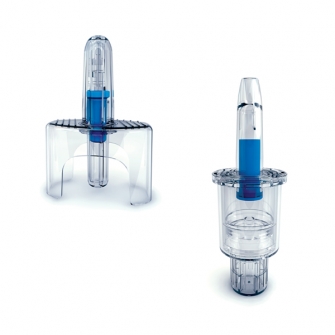 UDS was designed to enable the systemic delivery of drugs without the need for injection or administration by a healthcare professional. Primeless, with one handed actuation and 360° functionality, this device is approved with multiple drug products by the FDA and is used by thousands of people every day in a range of scenarios from migraine medication through to breakthrough pain in end-of-life situations.
News:
UDS are applicable for therapies where a small and very precise amount of active drug formulation is required in a single nasal shot. Some of these therapies delivered intra-nasally require high deposition in targeted areas of the nasal cavity. The nose-to-brain pathway which may allow therapeutic compounds to enter the CNS requires the targeting of the upper part of the nasal cavity or "the olfactory region".
Manufacturer's range of UDS, and in particular the UDS powder, is designed to address the nose-to-brain pathway. Dry powder formulations bring additional benefits, such as lack of preservatives, administration of larger doses of drugs and the improved stability of the formulation.
KEY FEATURES:
1. Accurate one shot drug delivery
2. Ready-to-use primeless devices, intuitive design
3. One handed actuation, 360° functionality
4. Ability to be administered by a second party
5. Suitable for liquid and powder drug delivery
PRODUCT CHARACTERISTICS:
1. Liquid dose volumes of 100 µl
2. Powder dosage – maximum filling volume 140 mm3
3. Drug product and delivery device protected before use
4. Microbiological integrity of the primary container (UDS for liquid formulations only)
5. Patient-independent performance for UDS Powder
6. Conventional filling techniques