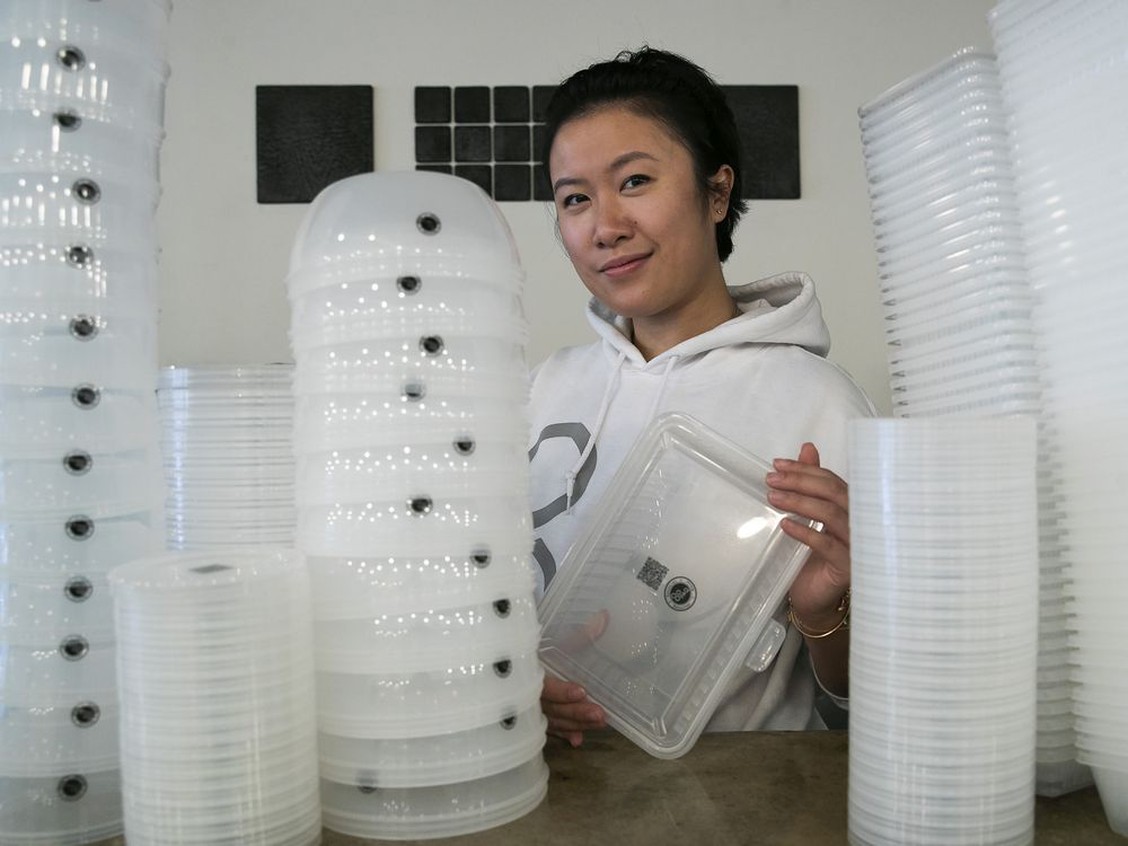 This ever-expanding ecological crisis caught the attention of 33-year-old Montrealer Mishel Wong. She has just launched an app-based reusable takeout packaging service in the city, the "Bo option." In collaboration with 16 restaurants in the Plateau/Mile End districts, customers now have the option to choose reusable packaging in the form of what she calls "Bo containers" when ordering takeout.
And it doesn't cost the customers anything — if they follow the plan — plus it will at least allow them a little clearer conscience. It's the restaurateurs who pay Bo for the reusable containers, and in the not-so-long run, they, too, will come out ahead.
If customers opt for Bo, they simply have to create an account at participating restaurants, which will provide them an app code. They are then requested to rinse out the containers and leave them at various Bo drop-off bins at retail spots and restaurants in the area within 14 days. (If not returned before the mandated borrow period, clients will be charged the retail price for the containers.)
The Bo team will sanitize the returned containers at its industrial washing facility, before sending them back to the restaurants that purchased them.
Seems like a no-brainer.
For the scientists out there: the Bo containers are made of polypropylene plastic, which is BPA-free and FDA-approved. They can be reused up to 1,000 times, after which the Bo containers will be recycled for construction-brick material with a New Brunswick construction company. The containers can withstand freezers and microwave ovens and can be cleaned in commercial dishwashers.
Among the restos that have signed up for the service are Ye Olde Orchard Pub and Grill (Prince Arthur St. location), Montreal Paella, Nakamichi, Liv Salades, Maynard, Otto Bistro, Sumi Dojo, Momo Sushi and Phoenix. Wong now reports that over 60 restaurants around the city have signed pre-agreements to become involved with the Bo plan, and she is making plans for island-wide expansion shortly.
"To be perfectly honest, I had always seen myself more as an entrepreneur, a salesperson, than as an environmentalist, and the initial idea around this was to help out our employer, a restaurant supplier, who was undergoing hard times with the pandemic," Wong says.
"Frankly, I had been quite ignorant before about what has been happening to the environment, particularly with single-use plastics. But when I learned that less than nine per cent of plastic food packaging was being recycled, I sensed a possible solution as well as an opportunity. Studies have shown that it takes less than 50 uses of our containers to start reducing negative impact on the environment."
Bo is a service-based company and makes its money selling restaurants a base-inventory level of boxes adhering to the Bo code. Bo also recharges the restaurants for the clean-up operation, after sending the containers back to them.
"Even as such, the fees the restaurants pay are way more competitive than what they would pay for plastic disposable boxes, which are in the 30-cent to $1 range per piece, whereas ours are in the 24-cent range," she says. "After three to six months, depending on the volume, restaurateurs can recuperate their costs, just the way they can with plates and utensils."
As such, the only onus on the customers is to return the containers.
"Apart from many other reasons, we wanted the service to be free for clients because we wanted to remove the barrier for those who have enough financial issues going," Wong says.
"Try to visualize this: ordering takeout for a family, you could end up with 10 containers. And if you were told you had to pay a deposit of $5 to $7 per box, you would be looking at me like I'm nuts, in terms of paying as much in consignment as for the meal. Our app allows clients to use the containers without paying for them as long as they return them — like a library book — within 14 days."
Understandably, Wong feels her system is a win-win-win situation.
"We're looking to save restaurants money and the city money in waste-management costs, plus help the environment."
She does, however, caution that even if the Bo option is applied, it won't be 100 per cent reusable at restaurants until full conversion of all takeout materials is attainable.
"Until there is that shift, we're looking for a better balance between disposables and reusables. But when the day comes that a restaurant announces that it only offers reusables, that will be like the biggest win of all.
"The ultimate goal is to create something that's lasting and not just a fad, both from an environmental and business point of view."