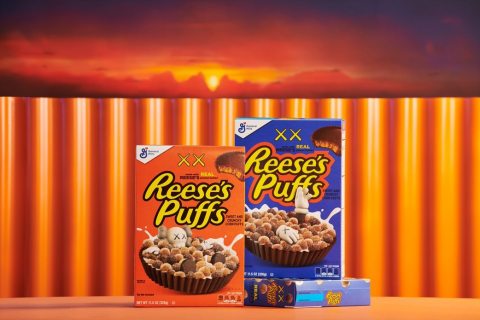 Continuing in its trajectory of partnering with some of the most relevant creative minds of popular culture, REESE'S PUFFS cereal is now teaming up with renowned artist KAWS. Together, they are releasing KAWSPUFFS, a new AR game, which is accessed via two limited-edition boxes designed by KAWS.
"Creativity is part of the foundation of REESE'S PUFFS and collaborating with KAWS, one of the most globally successful artists of our time, is a major milestone for us," said Mindy Murray, senior manager of Brand Experience at General Mills. "Our fans are creative and multifaceted with interests across music, art, gaming and beyond. Given that buzz of this partnership began building before we could even announce it, we think it's a good indicator that both KAWS and REESE'S PUFFS fans are excited for this partnership."
KAWSPUFFS Limited-Edition Boxes
The first KAWSPUFFS box features the brand's signature orange color and KAWS COMPANION, and includes a QR code to access the AR game. This box is available now in cereal aisles nationwide at an SRP of $3.99.
The second exclusive KAWSPUFFS box is blue in color, a first for REESE'S PUFFS cereal. The blue mimics the nighttime mode of the dynamic 24-hour AR experience. A limited quantity will drop on November 17 at shop.kawspuffs.com for $49.99 each. Fans will also have a chance to win one of these collectors' boxes, including a select few signed by KAWS himself, by achieving high scores in the KAWSPUFFS AR game.
KAWSPUFFS AR Game and Competition
The AR game enters you into a world with KAWS's famous COMPANION where you must crunch the falling PUFFS as they tumble from the sky. If you miss three, your game is over, and COMPANION sinks into a milky demise. The PUFFS progressively fall faster, but KAWS and REESE'S PUFFS feature power-ups throughout the game that will boost your score and help keep COMPANION afloat.
Fans can enjoy the web experience by accessing the QR code on the box, but must download the KAWSPUFFS app for a more robust experience, and to compete and win limited edition prizes.
Each week on the app, the top 10 players with the highest scores will win one of 150 exclusive blue KAWSPUFFS boxes reserved for top players. And, as an added bonus for super fans, the top two scores between 8 a.m. – 11 a.m. CT on Saturday mornings will win one of 30 total boxes signed by KAWS. The weekly competition runs November 15 through February 27. Visit https://cereals.generalmills.com/kpcontestrules/ for rules and more information.
"I've had a lot of fun teaming up with REESE'S PUFFS on this project," said KAWS. "I think this offers a new way to enjoy COMPANION and I hope people enjoy seeing him on his first cereal box."
REESE'S PUFFS cereal has a track record of teaming up with some of the most creative talents to produce popular, limited-edition collaborations, such as Lil Yachty's Lil Yachts, which sold out in less than a minute and last summer's RP-FX where Tinashe and other producers alike, challenged fans to create their own beats with the AR experience on back of pack.