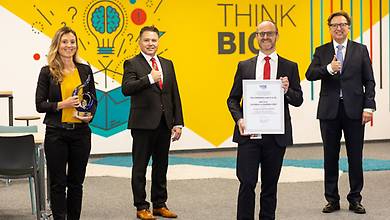 The German Association for Supply Chain Management, Procurement and Logistics ( BME) in Eschborn has presented our Procurement department with the 2020 "Excellence in eSolutions" award. The Association has been honoring innovative achievements by user companies in electronic procurement with this award since 2012.
"By presenting SEW EURODRIVE with the 2020 BME Award for 'Excellence in eSolutions', we have recognized an international, owner-operated family firm, acknowledging, first and foremost, the leading role the procurement team has taken on in the company's efforts to find new suppliers," emphasized Dr. Silvius Grobosch, CEO of BME and spokesperson for the panel of judges.
With its interdepartmental approach, the procurement process was geared toward holistic, process-oriented ways of thinking and acting. Based on its company-wide digital transformation strategy, SEW EURODRIVE developed Procurement 360° – Digital Vision 2025, an approach whereby Procurement employees proactively seek out new digital opportunities for even more efficient, pioneering collaboration with other corporate functions. Innovative technologies are identified in line with interdepartmental requirements and are initially tested in digital prototypes to verify their functionality and added value. What makes this particularly exciting is that it gives rise to completely new and unconventional approaches, such as the company's collaborations with scoutbee, a startup offering supplier scouting services via an AI-supported platform.
If you want to learn more about Procurement 360°, click here.
"Of course, we're delighted to have received this award. For us, it clearly demonstrates firstly, that the path we've taken is proving worthwhile for us and our development, and secondly, that we the procurement team can bring significant added value to the company as a whole," says head of purchasing Bernd Kohring.