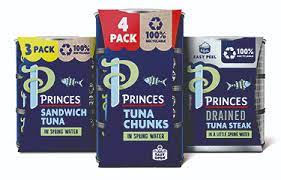 International food and drink group, Princes, has announced that it has achieved its long-standing ambition to responsibly source 100% of its branded tuna across the Group.  
In 2018 Princes announced its ambition to only purchase responsibly-sourced tuna for all its brands from fisheries that are either already MSC certified, engaged in a FIP (Fishery Improvement Project) that is working towards MSC certification, or from verified and well managed FAD Free or Pole and Line sources.
The Group has reported that 100% of its Princes branded tuna in the UK, Netherlands and Poland was sourced via a FIP or MSC-certified source in 2021. It's Austrian Vier Diamanten brand was sourced principally from FAD Free and Pole and Line fisheries, meeting the requirements of customers in that market.
Neil Bohannon, Group Director for Seafood at Princes, said: "We've applied ourselves fully across all areas of our tuna sourcing to reach our 100% target. This has been achieved despite the significant supply chain pressures that businesses across the industry are continuing to face during this turbulent time, as a result of the pandemic.
"This has not been a short or simple journey, but it is a testament to what can be achieved through close collaboration with suppliers, hard work and a firm commitment to driving sustainability. Our efforts now turn to continuing to uphold this pledge, to support the continuous improvement and long-term sustainability of tuna fisheries."
The business works closely with suppliers to encourage improvement and FIP participation as well as playing an active role in advocacy through the International Seafood Sustainability Foundation (ISSF), Global Tuna Alliance (GTA) and the Tuna Protection Alliance (TUPA) [MD1] to improve tuna sustainability.
In 2019, Princes was one of the founding partners of Senegal pole and line tuna FIP in Senegal. This followed Princes' investment as a founding member of the Sustainable Indian Ocean Tuna Initiative (SIOTI), a partnership of tuna processors, vessel owners, government agencies and WWF to help the purse seine fishery in the region meet MSC sustainability standards.
Princes is also a founding partner of the International Seafood Sustainability Foundation (ISSF), established in 2009, and plays an active leadership role in the organisation's important work and projects to advance the sustainability of tuna stocks and their ecosystems through a science-based research approach.
Princes' two tuna processing sites in Mauritius are MSC Chain of Custody certified and both hold SA8000 certification for social accountability.