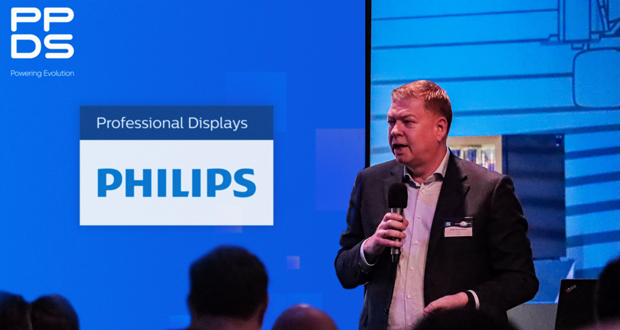 Grania Jain
PPDS has announced that it will bring more energy-efficient products to market, reconfiguring and reducing packaging, while providing greater access to information on energy consumption.
The declaration was made by Martijn van der Woude, head of global business development and marketing at PPDS, at two events for end customers and the company's Global Partner Alliance at the MK7 Oracle Red Bull Racing Technology Campus in Milton Keynes this month.
Van der Woude commented: "Sustainability has always been of great importance to us at PPDS. We're proud of what we have achieved to date, and we feel it is our duty and our responsibility, both to customers – who are calling for this – and to the planet, to do even more."
In addition to improving the energy efficiency of its digital signage, interactive displays, dvLED and Pro TV solutions, PPDS, has already made significant strides in enhancing its green credentials throughout the display lifecycle – from manufacturing in its factories with no outsourcing, along transportation journeys, through to its headquarters and regional sales operations.
Products are now contained in condensed packaging, to minimise resources used and maximise the number of products able to be loaded in any one shipment. Palletisation has also been reviewed and refined, with a 184 ton Tank to Wheel (TTW) CO2 reduction and 107 ton reduction of wood pallet consumption to date.
"This helps to reduce our carbon footprint without compromising the safety of each display during transit and it reduces the levels of waste likely to be immediately disposed of," said Stefan van Sabben, global CSR and sustainability manager. "Philips professional displays are packaged in brown board boxes, with one colour-only printing using soy-based ink. This ethos is continued through the packaging of pre-production components, with finished packaging made almost fully of recyclable materials.
PPDS also provides clear and immediate access to information around the energy efficiency of its range of digital signage, interactive displays, dvLED and Pro TV products.
Earlier this year the EU's revised energy labelling system came into force, replacing the existing labelling (A+++, A++, A+, A, B, C and D) with a more simplified A-G measurement rating. Existing appliances with an A or A+ rating are likely now listed as G.
The new A-G labels placed on Philips professional displays now feature a QR code which, when scanned using a smart phone, immediately show the information stored on the EPREL database, allowing greater transparency to customers and easier market surveillance by national authorities.
Martijn added: "It's estimated that up to 25% of products in the market do not comply with energy efficiency labelling regulations and that around 10% of potential energy savings are lost due to non-compliance. The new labelling and database will help improve understanding and coherence for customers to correctly identify and select the most efficient products."
PPDS' new Philips DV LED range (Philips 7000 and 6000 series) are also now designed to deliver proven low energy consumption – between 20%, and, in some instances, close to 50%, when compared to similar products on the market – without compromising on performance.