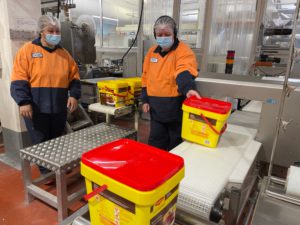 This saving on plastic use is a win for the environment and Nestlé Professional's customers as the company moves towards its goal of reducing virgin plastics by one third by 2025. 
"This clever packaging redesign of the popular MAGGI Professional range of 7-8kg gravies and boosters demonstrates how relatively small changes can make a big difference," Nestlé Professional Oceania general manager Scott Stuckmann said. 
"This project is the most significant packaging change Nestlé Professional has made to date in our sustainability journey in Oceania. By redesigning our yellow plastic pails and lids, we will remove the equivalent of 64,000 packages from the marketplace per year." 
The team at Nestlé Professional worked closely with their packaging supplier to achieve the 30 tonne reduction in virgin plastic while ensuring the same capacity, appearance, product shelf life and ease of opening and closing for customers. 
Innovative redesign 
The tub and lid were significantly reduced in weight and the lid was re-engineered to remove the silicone seal inside the lid base. The lid opening mechanism was also converted to a "push in – stay on" opening tab, which is fully integrated into the lid, replacing the "tear off" strip.  
As a result, the package design is significantly lighter while maintaining the same shelf life, strength and reliable leak-proof seal.  
The project team had to overcome some key challenges to achieve the final design, such as ensuring adequate strength remained in the new tub to withstand the rigours of the supply chain and use in a kitchen and ensuring the lid remained easy for customers to open and close.  
Even though it was a relatively small design change, the new lid also required modifications to the factory production line's automatic "lidder" machinery. This required a collaborative effort between Nestlé Professional's equipment and packaging suppliers and the factory's technical and engineering teams. 
Ongoing packaging improvement  
This latest redesign for the MAGGI Professional 7-8kg packs is part of a focus on continual improvement across the company's product range.  
In 2020, Nestlé Professional achieved a 15 tonne annual reduction in virgin plastic use by redesigning the MAGGI Professional and Nestlé DOCELLO 2kg plastic packaging.  
"These progressive redesigns for our MAGGI Professional and Nestlé DOCELLO packages are an important step in our ambition to reduce overall use of virgin plastics. We're pleased this current project has now also come to fruition after much hard work and collaboration from the team," Stuckmann said.  
There are many other projects in progress to help make 100 per cent of Nestle's product packaging recyclable or reusable by 2025, which are part of a global plan to reduce packaging waste.  
"Within Nestlé Professional's beverages range, we've made great progress with nearly 60 per cent of our range in 100 per cent recyclable material such as glass or tin," Stuckmann said.  
"The latest project underway involves our range of Beverage Bar PET jar refills. In 2022 we will replace the cardboard wad inside the lids to ensure they are fully recyclable, just like the jar. We will also change darker pigments in our lids to ensure the material can be sorted into the correct recycling stream. This will result in another 1.47 tonnes of material being recyclable every year." 
Foodservice business support  
To support the company's customers on their sustainability journey, Nestlé Professional has a range of resources available including a composting guide, food waste reduction tips and education materials such as the digital magazine PlanetPro, which covers a range of environmental topics closely tied to the foodservice industry to help reduce environmental impact. 
"We know how important sustainability is to our customers and, in turn, to their customers. Sharing our applied knowledge on sustainability is just one way we can help make sustainability more possible," Stuckmann said. 
"Showing our customers how they can make a difference by reducing food waste, decreasing running costs and maximising resources is just as important as our own actions to ensure the future of our industry and make a difference to the planet."