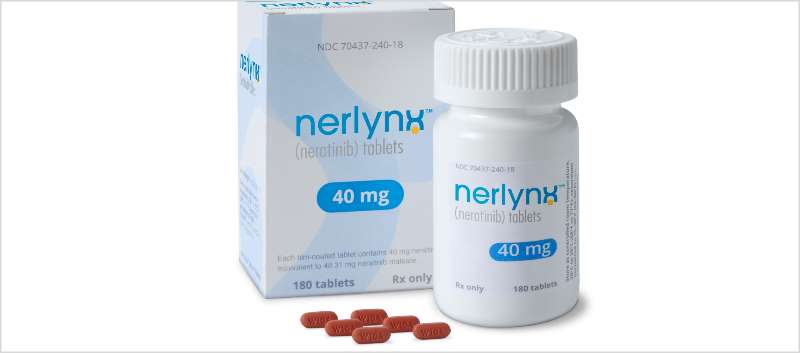 Nerlynx is a kinase inhibitor indicated as a single agent for the extended adjuvant treatment of adults with early-stage human epidermal growth factor receptor 2 (HER2)-positive breast cancer, to follow adjuvant trastuzumab based therapy. It is also indicated in combination with capecitabine for the treatment of adults with advanced or metastatic HER2-positive breast cancer who have received 2 or more prior anti-HER2 based regimens in the metastatic setting.
The approval for the use of Nerlynx dose escalation was based on data from the multicenter, open-label, multi-cohort phase 2 CONTROL trial (ClinicalTrials.gov Identifier: NCT02400476) that included adults with early stage HER2-positive breast cancer. Patients received either Nerlynx 240mg daily for up to 1 year, along with loperamide prophylaxis with additional anti-diarrheal treatment as needed, or Nerlynx dose escalation with loperamide as needed. In the dose escalation cohort, patients received Nerlynx 120mg daily for week 1, then 160mg daily for week 2, then 240mg daily for week 3 and thereafter.
Findings showed that dose escalation therapy was associated with improved management and prevention of grade 3 diarrhea, including a 60% reduction in the percentage of patients with grade 3 diarrhea (40% vs 13%), a 50% reduction in median cumulative days of grade 3 diarrhea (5 days vs 2.5 days), and an approximately 80% reduction in discontinuation rates (17% vs 3%), when compared with data from the phase 3 ExteNET trial (ClinicalTrials.gov Identifier: NCT00878709), which did not include dose escalation or antidiarrheal prophylaxis.
"We believe that utilizing dose escalation has the potential to improve the overall tolerability of Nerlynx and increase the average length of therapy, with the end result benefiting more patients battling breast cancer," said Alan H. Auerbach, Chief Executive Officer and President of Puma.
Nerlynx will also be made available in a new 133-count bottle containing a 4-week supply of 40mg tablets for use in dose escalation.