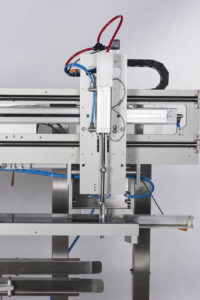 It is ideal for customers that require higher capacity output than our impulse vacuum sealers. Typically, customers requiring more than 15 bags a minute find a greater return on investment by choosing a continuous band vacuum sealer. Our satisfied customers include producers of coffee, snacks, pre-baked goods, electronics, medical products, and fresh or dried food, produce and meat.
The MPS 7103 can operate as a stand-alone sealer or be paired with a synchronized conveyor for a more automated system. Bags less than 2 lbs. are easily sealed without a conveyor. The MPS 7103 provides high quality, hermetic seals on all moisture-barrier bag materials and is capable of sealing bags up to 12 ml in thickness or 6 ml maximum when gusseted at required production speeds.
The vacuum and nitrogen flushing equipment removes oxygen and creates a moisture-free package, resulting in longer shelf life, product integrity, and protection against discoloration. For snack products, a gas flush only system can create a cushion-like buffer against damage.
All of our MPS 7100 bag sealers can be equipped with an optional bag top trimmer, emboss coder or inkjet printer. Designed for 24/7 operation, these sealers are suitable for all production environments.