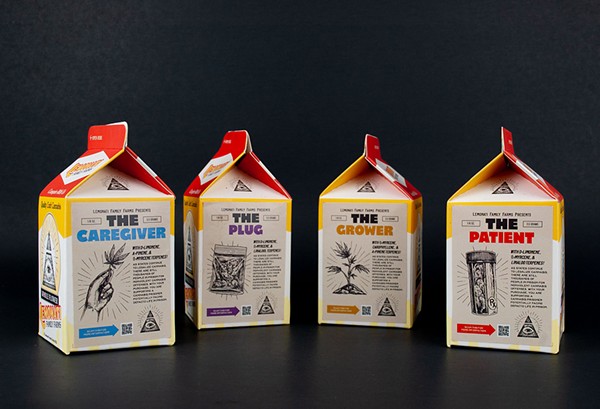 Press Packagingconnections
The "Defiance!" series by Lemonati Family Farms will raise $1 from each sale to support Freedom Grow, a nonprofit 501c3 organization that works toward helping and freeing cannabis prisoners.
The strains are named after positions within the cannabis industry — "The Caregiver" (Strawberry Shortcake), "The Grower" (Zkittles and Wedding Cake), "The Patient" (Wedding Cake and Gelato #33), and "The Plug" (Sophisticated Punch and Candy Rain).
"Whether as a caregiver, patient, grower, or a plug, many have found themselves facing 20-40 years or more in prison for actions now considered legal in more than a dozen states," the company says in a statement.
The nugs are sold in cardboard milk cartons, with packaging meant to mimic the missing-persons advertisements that used to be found on milk cartons. The labels include a QR code that can be scanned with a smartphone, which pulls up stories about cannabis prisoners, as well as more information about the various strains.
"Freedom Grow is thrilled to announce our relationship with Lemonati Family Farms," Freedom Grow vice president Randy Lanier said in a statement. "We are grateful for their compassion, kindness, generosity, and willingness to pay it forward. It is a blessing to the many families still suffering from this failed War on Drugs."