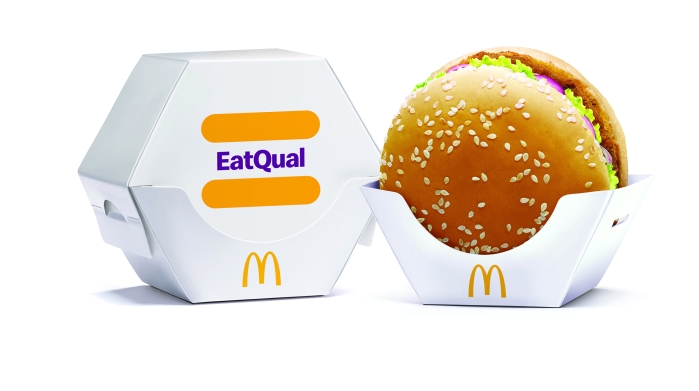 With this progressive and inclusive initiative, the company has once again reinforced its brand promise of making delicious feel-good moments easy for everyone. The EatQual pack has been developed over months of collaboration an NGO that has been working towards the betterment of the specially-abled community for over 50 years.
McDonald's restaurants in West and South India are owned and operated by Westlife Development Ltd under its wholly owned subsidiary – Hardcastle Restaurants Pvt Ltd.
Why Eatqual?
The new packaging innovation stems from the insight that the current packaging typically requires customers to use both their hands to truly enjoy the delicious McDonald's burgers. This makes it difficult for those with upper-limb disabilities. EatQual will address this challenge and ensure that everyone can bite into their favourite burgers just as easily.
Speaking about the upcoming launch of this packaging, Arvind RP, Director – Marketing & Communications, McDonald's India (West and South) said "It has always been our endeavor to make delicious feel-good moments easy for everyone. The launch of this EatQual packaging is a step to further our commitment towards inclusiveness and social responsibility. We hope that this packaging will make the McDonald's experience easy and delightful for our specially-abled customers."
Rahul Matthew, National Creative Director, DDB Mudra Group, India said "Equality and inclusivity isn't always about the big things. It's also about being able to do the little everyday things like everyone else can; eating your favourite McDonald's burger, for instance. And that has been the guiding force behind the EatQual initiative. How can we make the McDonald's experience just as enjoyable for all."
Commenting on this upcoming packaging launch by McDonald's India West & South, Dr Vaishali Kolhe, Associate Professor at Centre for Disability Studies and Action & Tata Institute of Social Sciences, Mumbai, said "It is heartening to see an iconic brand like McDonald's take initiatives to maintain inclusion at their restaurants. Food accessibility is the bare minimum necessity for every individual including the ones with upper arm movement disability. Innovations like these can make eating so much easier for them. Through initiatives like these, we are not doing these individuals a favor but making their experience of eating independent and enjoyable. I look forward to enjoying my favourite McDonald's burger in the new EatQual pack."