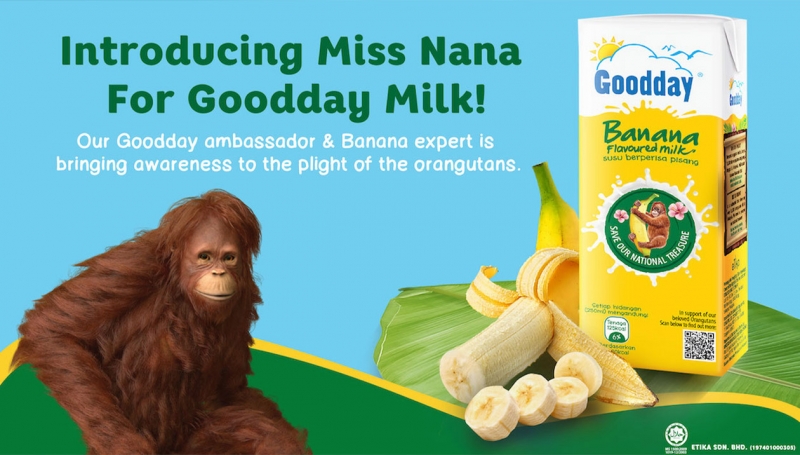 Grania Jain
Upon scanning, the link will direct consumers to information about how they themselves can support the cause by spreading awareness and contributing towards the mission. The campaign is done in conjunction with the launch of its new banana milk product and in support of WWF Malaysia.
It has also created the first orangutan influencer, Miss Nana, which will be featured in videos, taking audiences through the forests of Borneo and sharing her story with them, to educate Malaysians on the importance and need for protecting orangutans. Goodday Milk is leveraging digital assets such as engaging and informative videos to spread further awareness about the issues affecting orangutans in Borneo such as deforestation and climate change.
To drive further support, Goodday Milk is also encouraging consumers to share images of their Goodday UHT banana milk pack on social media with #GooddaySupportsOrangutans. Upon receiving 1,000 hashtags from consumers, the brand will double its donations to WWF Malaysia's orangutan conservation efforts.
Santharuban T. Sundaram, SVP of marketing and alternate business at Etika, said the brand has always been advocating campaigns that add goodness to the life of its consumers, be it through meaningful partnerships or exciting rewards. "Within support of WWF Malaysia's conservation efforts, we hope to leverage our vast audience of consumers and get them actively involved in protecting our Bornean orangutan," he added.
In August, the brand partnered with navigation app Waze to create a safer shopping experience for Malaysians by identifying less crowded hypermarket and supermarket outlets, utilising the app's historical navigation data. Waze will serve suggestions for lower traffic outlets when drivers search for specific location destinations using keywords such as "groceries", "hypermarket" or "supermarket".
Drivers using Waze will also see suggestions when passing by or driving to these lower traffic outlets indicated by a Goodday Milk logo pin. The app is also able to identify stores that are seeing less traffic, within the set radius around consumer's current locations, guiding them to lower traffic hypermarket or supermarket stores.