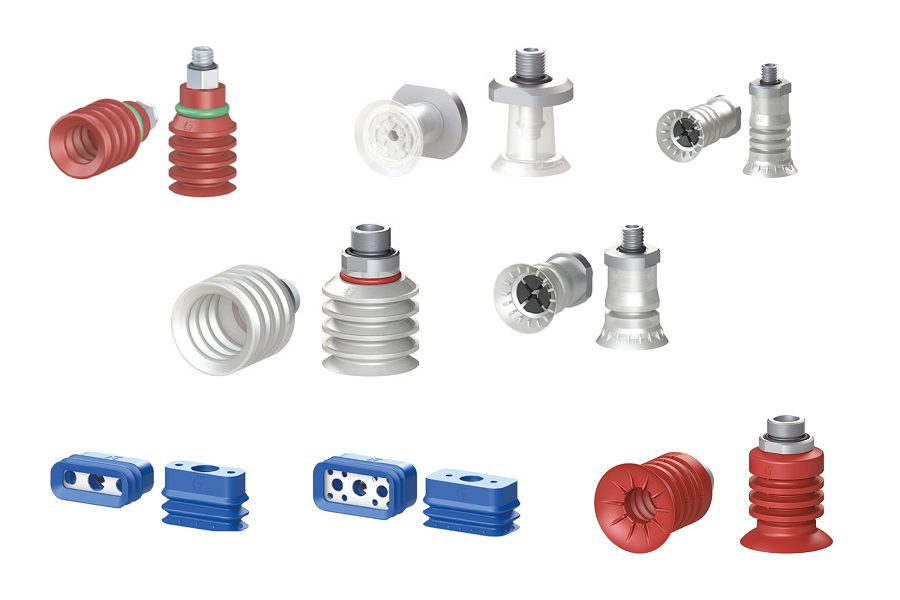 GIMATIC is an Italian company, innovative and leader , with a presence in the industrial automation market for more than 35 years , focused on the manufacture and sale of components for the construction of automated assembly and assembly systems, according to the objectives set. for Industry 4.0 and the start-up of smart factories (" Smart factories ").
Thanks to its competence, flexibility and extensive use of new technologies in the field of design and production, it is able to offer specific and adapted solutions for each application / production process, allocating the available resources more efficiently.
In the Iberian Peninsula we work with the aim of being your technical and professional reference , combining ambition, honesty and professionalism with a clear orientation to the client and their best service .
Among the many solutions that make up this new vacuum range, GIMATIC presents its suction cups dedicated to handling in the food sector , be it for applications in direct contact with the product or applications for handling the product in its packaging . 
FP Multifuel Suction Cups for handling FlowPacks and Unpackaged Food
Ideal suction cups for handling packaged snacks and for compensating unevenness. Its high vertical movement is very useful for the separation of fine pieces. It can be supplied with a perforated disc to increase stability and to allow handling of thin films. It exists in a Silicone version approved by the FDA and, therefore, ideal for handling non-packaged food.
BC Multifuel Suction Cups with thin lip for handling bags with liquid and deep-frozen
Ideal suction cups for handling bags containing fragile products, bags with liquids and deep-frozen. They have robust bellows, thin and flexible lip and specific high flow connections. Its 4.5 bellows make it possible to compensate for height differences. 
Rectangular BR and LBR suction cups for handling oblong snacks
Suction cups suitable for handling snacks and food bars in flow pack. Available in version with 1.5 bellows or 2.5 bellows. In its version with 1.5 bellows, it allows moving objects with small differences in height, while its version with 2.5 bellows is ideal for high height compensations, snacks with an irregular surface. Suitable for applications with parallel and perpendicular apprehensions to the surface, its lip is able to adapt perfectly to the plastic film. Ideal for apprehending and placing the manipulated object aside. Available in a version with an embossed design to avoid damage to the product being handled and implosion of the lip.
FO suction cups for opening bags on packaging machines
Suction cups ideal for opening bags and handling fine and delicate objects such as sheets and thin films. The internal weft and the thin lip prevent damage to the manipulated object and maintain its flatness. Suction cups made of transparent silicone approved by the FDA.